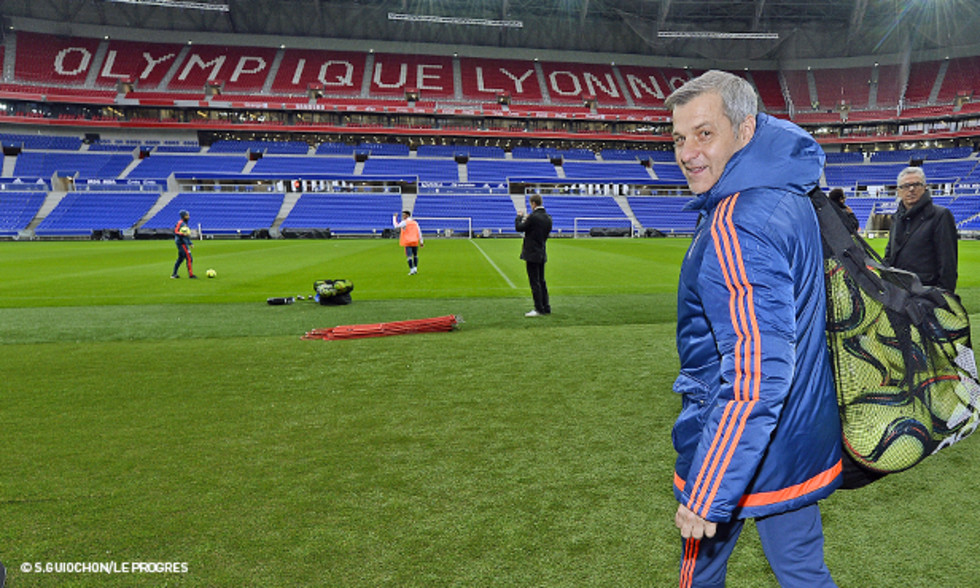 With the clash at home to OM just 48 hours away, the OL coach held his press conference…
INJURIES
"All my players are ready to go except for Fofana and Fekir... Gueida is still working towards match fitness. We've spared him from group sessions, but he;s on the right track. We just have to wait a bit longer. His ankle has less stiffness than it used to. His return? It's still too early to say."
IN A RUSH TO SEE BETTER FOOTBALL?
"We're not going to be hasty; we're not impatient. Sometimes when you want it too much, you forget certain basic principles. You need to hang onto what works well; we want to improve our cutting edge up front. I'm confident that there will be improvement with the return of Mathieu Valbuena, even though I'm still waiting to see him recapture his form from the match in Beauvais: his impact, his movement and his determination. There has ben a lack of aggression and presence in front of goal. We also need to re-adapt to the 4-3-3, especially in terms of our midfielders, who haven't been getting forward enough. We've also enjoyed very little good fortune of late. But what's reassuring is the fact that we've been creating chances. We're on the right track."
Alexandre LACAZETTE
"His performances have been promising, especially the one in Beauvais, which took place in a complicated context. It's important for him to find his rhythm. We're lucky to have all our attackers - with the exception of Nabil - available. But we still have to find a certain balance."
OL's and OM's RANKING
"Yes, it's unusual to see these two clubs ranked where they are at this stage of the season. But you get what you deserve. Still, there are a lot of matches left to play in order to get back to where we feel we belong. We've been playing a lot of the top teams lately; OM are the league's second-best side on the road. We've proven that we're capable of dominating at home."
A TOUGH MATCH
"Yes, but there will be plenty of matches to follow it, even though these three points are very important. A win would allow us to get back to a position more in keeping with our ambitions. We're preparing for a tough match secure on the knowledge of what we're capable of. Anything can happen in this league season, even though PSG will doubtless take the title. Our match against OM won't make or break our season. We can still claim second place."
IMPACT of the NEW STADIUM
"It's another weapon in our arsenal. It motivates us even more… it's an advantage for us… We'll hold Saturday's training session in this stadium."
OM
"They're tough team when they're playing away from home, and not just in attack. Lassana Diarra is a super-important part of their set-up. He has transformed the side in terms of the balance he brings. He's one of the best players in the league."
OLYMPICO
"It takes place mainly in the stands… after all, every high-level match is an intense affair. It just needs to stay within the limits of sporting behaviour. I hope there will be goals… for us! It's tough to predict."
COUPE de FRANCE DRAW
"A match is just a match, even though our chances are slim. Still, PSG have a very busy calendar and that could be an advantage for us. We'll make the absolute most of our opportunity."
TRANSFERS
"We're still considering our options and taking into account that the youngsters alike Maxwel and Aldo are playing well… and there are still more players at the academy. If we sign anyone, they will have to provide areal plus for the squad."