In March 2016, Groupama Stadium welcomed its first visitors. Three years and 120,000 visitors later, Anthony Jaffre (head of tourism development) looks back at the success of the guided tours, which are part of a more global strategy to make this stadium a must-see tourist spot in the city, particularly East Lyon.

---
Groupama Stadium - more than just a football stadium?
Beyond its sporting project, the Club has devised a rare, ambitious and avant-garde project based around its stadium, ranked among UEFA's 40 elite stadiums (established in 55 countries) that have hosted the biggest matches, as was the case for Euro 2016, or last season's Europa League final. Groupama Stadium has already demonstrated the full extent of its talent, its attractiveness and its influence.
In addition to Groupama Stadium, a unique complex has been developed around the stadium to make it a must-see tourist destination in the Lyon region: we welcome an average of 3,500 people per month on guided tours. As well as Mini World, which is one of the most visited attractions in Lyon, enjoy a day of sightseeing and leisure at Groupama Stadium and the OL Museum.
---
More Stadium Tour information
The Stadium Tour allows fans to go behind the scenes at the club's stadium to discover the day-to-day operations of the football team. It's really more than just a visit - it's an excursion. Visitors are not passive, they actively participate in the tours.
Sitting in the players' locker room, on the substitutes' bench instead of head coach Bruno Genesio, or in President Jean-Michel Aulas' seat, visitors are immersed in the emblematic places of the stadium so that young and old, OL fans and non-OL fans like can experience this unique monument and understand the Club's project in vivid detail.
---
Why are guided tours so popular?
We make a point of honoring the quality of the services offered. Visits are organized by guides hired and trained by the Club. The role of the guide is essential for our visitors to learn while having fun and making memories of their visit. The least we can say is that there is a true atmosphere in our guided tours... we have fun!
We try to give visitors the best possible welcome, with constant attention. Some clubs have opted to use an audio guide or tablets. We, on the other hand, choose a more personal approach so that all visitors experience unique emotions and leave with unforgettable memories.
We've been rewarded for our work! We obtained the Tourism Quality Label and the Tourisme Only Lyon trophy in 2018. We are the only stadium to obtain a national tourism label, along with Wembley Stadium. We also received the Tripadvisor Certificate of Excellence for the second consecutive year thanks to public votes. We poll all our visitors via satisfaction surveys and for three years, visitor satisfaction has been maintained above 90%!
---
What does Groupama Stadium offer?
Groupama Stadium is a place full of life, among the most visited in the region. With Stadium Tours, Brasserie des Lumières Bocuse, OL Escape, VIP Experience, and more recently the OL Museum and Offside Gallery, we welcome thousands of visitors throughout the year to the heart of the large-scale OL City project, which will soon see a medical and recreation center out of the ground, after the opening of the Kopster Hotel last October.
| Look back at our surprise celebration for the stadium's 100,000th visitor |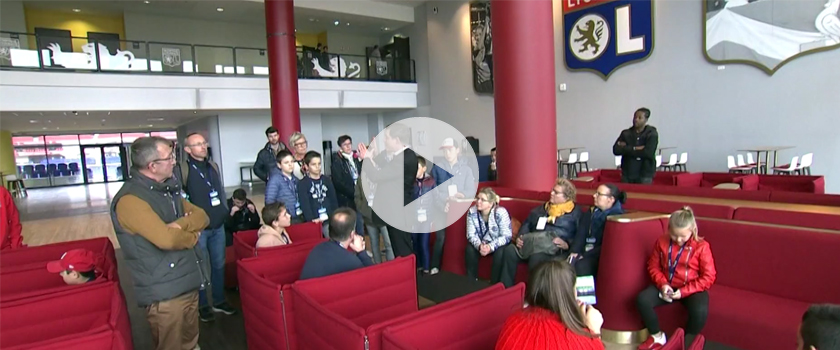 ---
STADIUM TOUR info

Open: Wednesday, Fridays, Saturdays, Sundays and Thursdays during school holidays. Open Easter Sunday!
We offer reduced rates for groups of 20 people or more.

For more information click here.