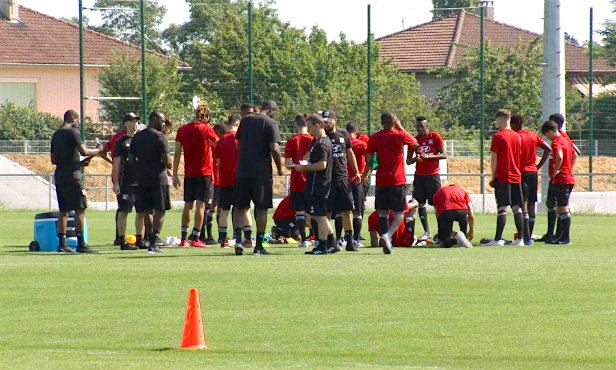 Lyon's new reserve team coach and his assistant in charge of goalkeepers gave their thoughts on the squad as preseason got underway.
Wednesday saw Lyon's reserve team begin its preseason in the the heat of the Groupama OL Training Center. The squad had a noticeable facelift during the summer, with a complete overhaul of the coaching staff. Former head of training Christian Bassila is now the head coach of the Pro 2 side, with Gueida Fofana, who ran the U17 team last season, as his assistant. Newcomer Alfred Dossou-Yovo, former head of goalkeeper training at Paris Saint-Germain, will have the same position at Olympique Lyonnais.
...

. NATIONAL 2 preseason schedule.

July 9 to 14: training camp in Vichy

July 14: Moulins Yzeure – OL

July 21: FBBP01-OL

July 27: OL-La Duchère

August 1: AS Saint-Priest-OL

August 4: Chambéry SF –OL


...

The two new additions to the coaching staff looked ahead to the upcoming season in interviews with OLTV:
Christian Bassila
"Our first session went very well. We adapted the session to the heat… Me and Gueïda (Fofana) already know each other… Alfred (Dossou-Yovo) and I are getting to know each other. We arrived from Meyzieu (OL Academy base camp)… We're getting to know each other through different meetings and conversations. We've set up a framework that will allow us to support these young people and help them reach the top level… We have a heterogeneous group, from the 1996 generation to the 2003 generation. The idea is to prepare them so that they can join the professional team by training them in high-level competition. There are some talented players, but they're not mature enough yet. Being in Décines will speed up their development ... There is potential, our job is to help them achieve it. "
Alfred Dossou-Yovo
"I'm getting to know the the facilities and youngsters little by little. I am very satisfied. I'm happy to have joined OL... There were contacts very early on. We had discussions, some exchanges, a few telephone meetings. They reassured me and I wanted to embark on this new project, this new challenge... I had a very good perception of the Lyon way training. For some time now, OL have had the best training center in France. Many first team players came from here... I knew Christian (Bassila) and Gueïda (Fofana) because I followed them when they were players. I also met the other members of the staff… they are good people. We can work calmly and move forward ... My goalkeepers have potential, but I can't give an honest assessment because we haven't touched the ball yet. The important thing is to see them come with a smile."
...

. Alfred DOSSOU-YOVO profile.

Born April 21, 1984 in Cotonou (Bénin).

Licensed as a BEES 1 "goalkeeper coach"with the FFF.

2003 - 2011: ESTAC goalkeeping coach (U14 to Pro 2).

2011 - 2018 PSG goalkeeping coach (U14 to Pro 2).

...