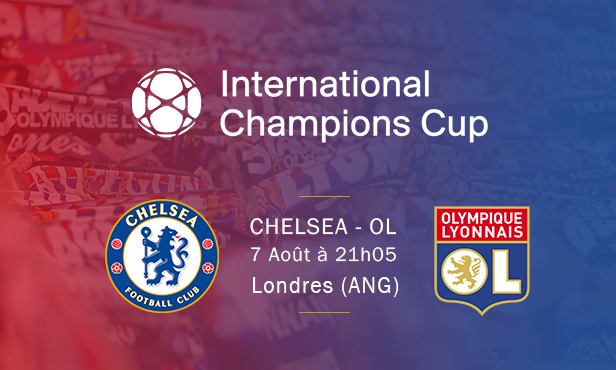 On Tuesday, August 6, Lyon will face Chelsea in the International Champions Cup. Find out how to attend the match in the visitors section at Stamford Bridge.
OL will participate in the sixth edition of the International Champions Cup (ICC). Founded in 2013, this prestigious preseason tournament attracts some of the biggest clubs in planet football.
This year, you're invited to attend the Chelsea-OL match at Stamford Bridge on Tuesday, August 7th. Tickets for the Lyon visitors' section are reserved for season ticket holders and members of the OL supporters' program.
---
CHELSEA - OL: Tuesday, August 7 at 8:05 pm (local time)
Stamford Bridge | London


Prices


Adults: €33

Minors (under 20 years old) and Seniors (over 65 years old): €16
There will be no sales in the visitors' stand on the day of the match.
Tickets go on sale Wednesday, July 4
Ticket sales end on Friday, July 27 at 4 pm
Access to the Visitors' Section: (« Shed End »)
SEASON TICKET HOLDERS AND SUPPORTERS' PROGRAM MEMBERS
Note, the voucher is not a ticket.
Note, these are thermal tickets that must be picked up at Groupama Stadium by presenting the voucher that was sent to you during your online purchase.
Please visit the box office at the OL Store's mezzanine (Alley of Lights or Podium Stadium door A) with a valid ID to pick up your tickets beginning July 16. .
(Customer service is open Monday through Saturday from 10 am to 7 pm)
---

NOT A SEASON TICKET HOLDER OR OL SUPPORTERS' PROGRAM MEMBER?
Sign up for the OL supporters' program to be able to attend games outside of France by clicking here.