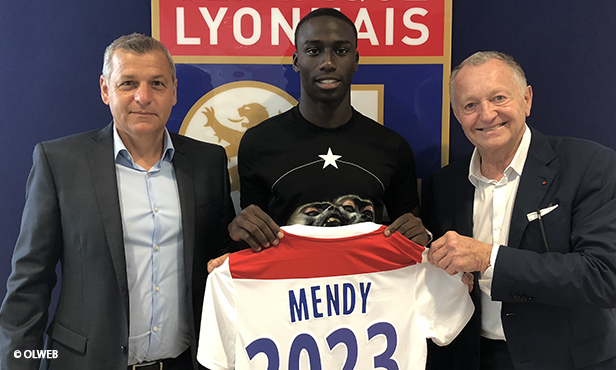 Olympique Lyonnais are thrilled to announce that Ferland Mendy has signed a new deal that will keep him at the club an extra year, through June 2023.
After a promising first season with OL, which saw him win Ligue 1 Conforama Team of the Year honors at the UNFP awards, Ferland Mendy has signed a new contract linking him with the club through June 2023. The 23-year-old left back played 35 matches in all competitions during 2017-18, delivering five assists.

Mendy's one-year extension comes shortly after Houssem Aouar's new deal and confirms Olympique Lyonnais' strategy of entrusting the team to young, up-and-coming players.
Jean-Michel Aulas
« With Bruno (Genesio), Florian (Maurice), Gérard (Houllier) and Bernard (Lacombe), we looked back at the past season, which was good, especially the performances of our young talents. The main objective, even before signing reinforcements, is keeping our young players and our framework. It also helps to update contracts and make the players happy because each contract extension comes with a pay increase, which is normal.»
Bruno Genesio
« He was pretty consistent in his performances last season. He still has a long ways to go, with plenty of potential. Now, he has to prove himself. This is usually the hardest thing to do in football. But we all trust him, that's why he got this extension. »
Ferland Mendy
« I'm very happy to sign this one-year extension with the club. I hope it's a good year. I will give my all for OL and our supporters. I hope we go far in the Champions League and have a good season in Ligue 1 [...] I want to play as many matches as possible. As for the French national team, we'll talk about that later (laughs). »