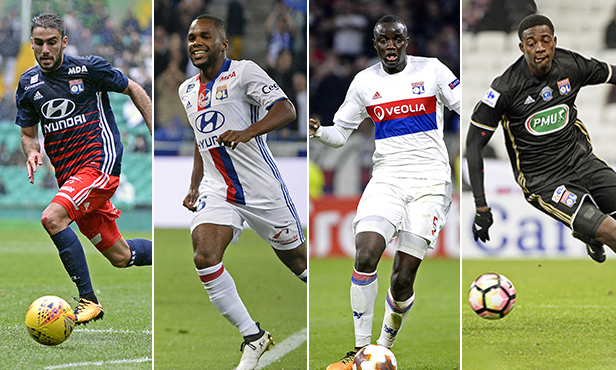 Lyon have had an active start to the summer transfer window, loaning out Timothé Cognat to Servette FC and Elisha Owusu to Sochaux while transferring five additional players on permanent moves.
Mouctar Diakhaby
Mouctar Diakhaby arrived at OL during the 2013-2014 season. The imposing central defender (1m 89cm tall) played the Gambardella Cup final against Sochaux in 2015 alongside Aldo Kalulu. A French international at the U19, U20, and U21 levels, "Mouco" signed his first professional contract with Lyon in August 2015 and made his first team debut on September 10, 2016 against Bordeaux. That season, he played a major part in the team's exceptional Europa League campaign, scoring a crucial goal in the Round of 16 against AS Roma (4-2). Spanish club Valencia is his next destination.
...

.MOUCTAR DIAKHABY.

21 years old / Central defender

With OL: 55 matches (34 in L1), 7 goals

2017-2018: 21 matches, 2 goals for OL

S

.
Aldo Kalulu's football career to date practically revolves around Olympique Lyonnais. The 22-year-old Lyon native was quickly noticed by OL and joined the Academy at the tender age of eight. The eldest of four siblings - brothers Gédéon, Pierre and Joseph have all followed his footsteps with OL - the striker has stood out with the U19 team, especially at the 2015 Gambardella Cup, where he was a finalist against Sochaux. That same year, in August, he signed his first professional contract. A small, quick attacker, Kalulu make his Ligue 1 Conforama debut during the 2015-2016 season, logging his first minutes against Lille and scoring his first goal for OL at the Stade de Gerland against Bastia (2-0). He subsequently played on loan with Rennes and Sochaux before permanently cutting ties with OL this summer by joining FC Basel on a permanent move.
...

.ALDO KALULU.

22 years old / Striker

With OL: 20 matches (14 in L1), 3 goals

2017-2018: 34 matches, 12 goals with Sochaux (on loan)

S

.
Merci @OL ????❤️ pic.twitter.com/8abniQ3ylM

— Aldo Kalulu (@KaluluAldo) 26 juin 2018
Jean-Philippe Mateta
Jean-Philippe Mateta signed a five-year contract with OL in September 2016. During the 2016-2017 season, he made two appearances with Les Gones, against Montpellier and Monaco. After a successful loan spell at Le Havre last season, he will take the next step in his career in the Bundesliga with Mainz.
...

.JEAN-PHILIPPE MATETA.

21 years old / Striker

With OL: 2 matches (2 in L1)

2017-2018: 37 matches, 19 goals with Le Havre (on loan)

S

.
Romain Del Castillo
Romain Del Castillo arrived at OL in June 2012 from FC Lyon, making his professional debut during the 2015-2016 season. After a year on loan with partner club Bourg-en-Bresse Peronnas (2016-2017) and a loan spell with Nimes Olympique last season in Domino's Ligue 2, the 22-year-old midfielder has completed a permanent move to Stade Rennais.
...

.ROMAIN DEL CASTILLO.

22 years old / Midfielder

With OL: 2 matches (2 in L1)

2017-2018: 32 matches, 4 goals avec Nîmes (on loan)

S

.
Willem Geubbels
Willem Geubbels, who joined OL during the 2010-2011 season, was one of the youngest ever players to make a name for himself in the French top flight with Lyon. By making his first appearance at the pro level last season at just 16 years, one month and seven days, he became the youngest player to play in a Ligue 1 Conforama match with OL since Joël Fréchet in 1981.
...

.WILLEM GEUBBELS.

16 years old / Striker

With OL: 4 matches (2 L1, 1 Coupe de la Ligue, 1 Europa League)

2017-2018: 4 matches (87 minutes) with OL

S

.
Ma première entrée ????????@OL @nikefootball @fff pic.twitter.com/YuAK96upJp

— Willem Geubbels (@WillemGeubbels) 23 septembre 2017