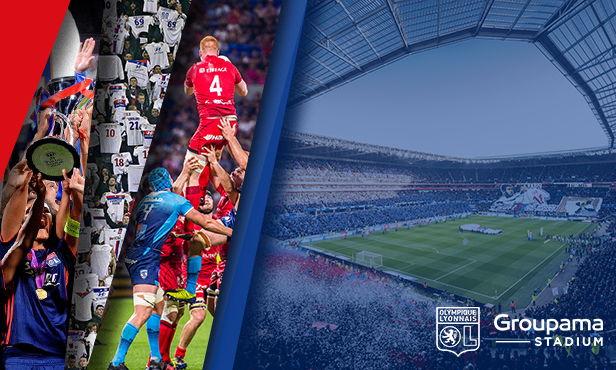 Last weekend's Monster Jam show closed out a third spectacular season at Groupama Stadium, which surpassed the 1.5 million attendance mark during 2017-18 to confirm its status as a first-rate sporting venue!
MEMORABLE LIGUE 1 CONFORAMA MATCHES
The 2017-2018 season came to a thrilling end on May 19 with OL qualifying for the Champions League thanks to a 3-2 win over Nice. Les Gones capped off their season in style in front of 56,953 spectators, with Groupama Stadiumon registering the best attendance on the the final Match Day of Ligue 1 Conforama.

A happy ending to an unforgettable season full of twists and turns. The 19 Conforama League 1 matches at Groupama Stadium set an attendance record for the season with an average of 46,005 spectators per game, far ahead of the average league attendance (22,540 fans. Source LFP).
Another season highlight at the stadium was the 116th derby that featured a brilliant Nabil Fekir tifo in the stands. A total of 58,069 spectators were present to help set an attendance record for a L1 Conforama match at Groupama Stadium!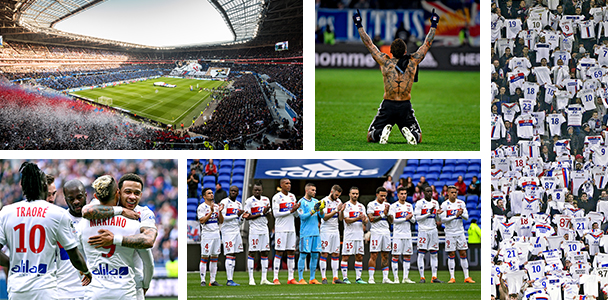 Check out all the pictures here.
---
WOMEN'S CHAMPIONS LEAGUE ACTION
The OL women's team managed another remarkable season by winning the D1 Féminine-Women's Champions League double, allowing them to become the most successful team ever in the latter competition.

A record 35,688 fans saw Lyon beat FC Barcelona in the quarterfinals and Manchester City in the semifinals en route to their fifth all-time title!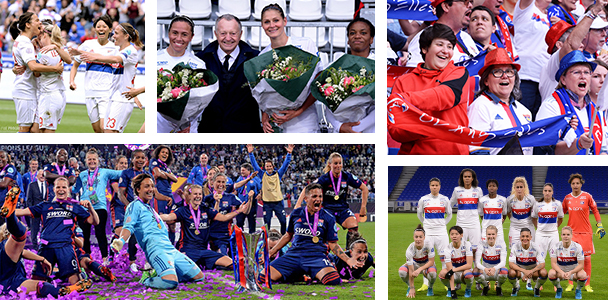 Check out all the pictures here.
---
FIRST-RATE SPORTING EVENTS
> Groupama Stadium, Rugby field!
Following the European Rugby Finals in May 2016, Groupama Stadium hosted the incredible French XV-All Blacks showdown last November.
On May 25th and 26th, the Top 14 semifinals also took place at Groupama Stadium, where Montpellier and Castres qualified for the grand finale of the 2018 Top 14. A total of 114,936 spectators witnessed both exhilarating matches in a span of l24 hours!
58,664 fans saw the Montpellier Hérault Rugby-LOU Rugby semifinal (40 - 14).
56,272 fans saw the Castre Olympique-Racing 92 semifinal (14 - 19).
A sell-out crowd of 58,664 fans set a sporting attendance record for the stadium - proof that Lyon is a rugby hotbed!


> Europa League
This season, Groupama Stadium hosted six Europa League matches, including the prestigious final that saw Atletico Madrid defeat Olympique Marseille (3 - 0) to hoist the trophy.

> France - USA
On June 9, 58,241 spectators set an attendance record for a football match Groupama Stadium as they cheered on France against Team USA in Les Bleus' final World Cup tune-up!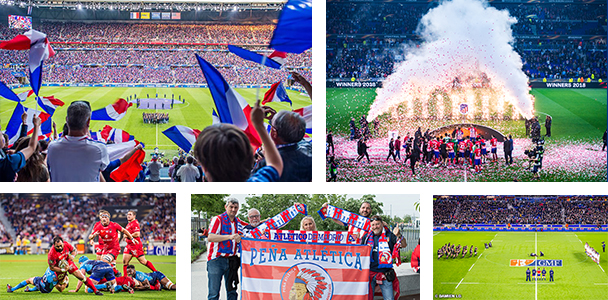 Check out all the pictures here.
---
In front of 23,000 spectators, Monster Jam closed the 2017-18 season in style. For a third straight year, Groupama Stadium continued to host the biggest sporting events in the region.

Sure enough, the 2018/2019 season also promises to entertain, as the UEFA Champions League will return to Groupama Stadium in September. And next summer, the best women's football teams in the world will gather in Lyon to compete in the FIFA Women's World Cup semifinals and final.