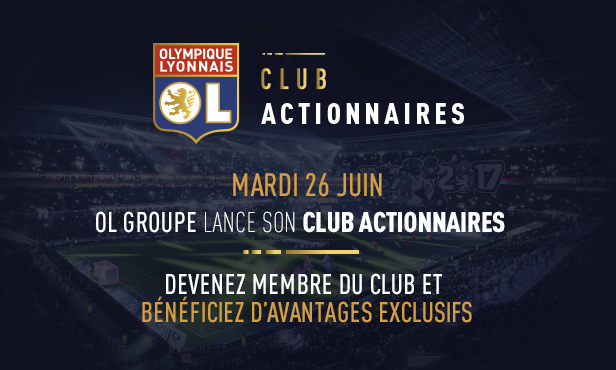 OL Groupe is pleased to announce the launch of its Shareholders' Club.
The goal of the Shareholders' Club is to develop and reinforce relations between OL GROUPE and its shareholders and OSRANE holders by promoting the exchange of ideas and rewarding their loyalty.
Free and open to any holder of at least one share or one OSRANE OL Groupe, the Shareholders' Club will develop a privileged relationship with its members.
I am very happy with the creation of the Olympique Lyonnais Shareholders' Club. It will allow us to increase our bond with our loyal shareholders, many of who have been with us for a number of years.
Jean-Michel Aulas, President-General Manager of OL Groupe
ADVANTAGES FOR CLUB SHAREHOLDERS
OL Groupe Shareholders' Club members will have access to exclusive benefits.

1/ They will have a direct and consistent relationship with OL Groupe, with the possibility of subscribing to a financial e-newsletter published by the Group: press releases, letters to shareholders, annual reports, etc ...
2/ A unique, specific email address
3/ Depending on the number of shares or OSRANE OL Groupe held, and within the limits of available stocks, they can take advantage of limited offers reserved for Club members: infrastructure visits, invitations to matches / events, etc ...
HOW TO BECOME A MEMBER OF THE SHAREHOLDERS' CLUB
Membership in the OL Groupe Shareholders' Club is simple and free. You must be of age, possess at least one share or OSRANE OL Groupe and to be able to prove that you are a shareholder or holder of OSRANE OL Groupe.
To join, visit the Olympique Lyonnais Shareholders' Club page on olweb.fr to complete the online membership form.