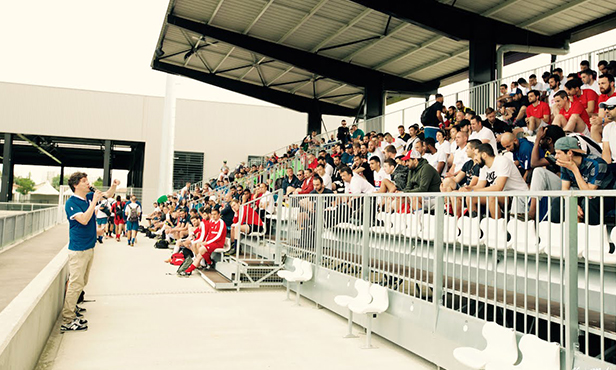 On Sunday, June 10, Groupama Stadium hosted the 16th edition of the But en Or solidarity tournament. All funds generated from the event, organized by long-time OL Foundation partner Sport dans la Ville and involving competing companies, were donated to the association that helps some 6,000 youngsters daily.

Forty-eight teams, or nearly 400 people, met under the Décines sun to compete on the OL Training Center grounds. There was plenty of enthusiasm and good vibes all around as each team came to defend the colors of their respective sides.
The festivities kicked off at 8 a.m., with all players taking part in a group warm-up before the start of the competition.

The matches were were played one after the other throughout the day, with numerous spectators checking out the action on the pitch. It was a special occasion for all those who got to experience the first-rate facilites at the Groupama OL Training Center, as well as Groupama Stadium, where a well-deserved lunch break was held.

At the end of a highly competitive tournament, the Biomérieux squad beat Tea McDonalds in the final - in a repeat of the 2017 edition! After the final standings were announced and the awards given out, the day ended in style with a cocktail party.

A huge thank you to all the teams that came out for the occasion, as well as the volunteers who helped ensure the event was a success!
Check out the best pics from the event here.
---
ABOUT SPORT DANS LA VILLE
Founded in 1998, Sport dans la Ville is the main organización for professional integration through sport in France. Its aim, through its various programs, is to enable young people to gain self-confidence and thus foster their social and professional integration into the work force.
A founding partner of Sport dans la Ville, the OL Foundation has supported the association since its creation and contributes to its development through numerous events organized throughout the year.
Learn more about Sport dans la Ville.