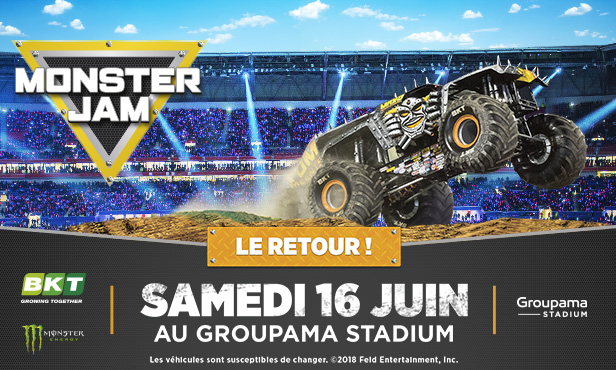 C'est le retour des mastodontes au Groupama Stadium ! Découvrez cet événement spectaculaire le samedi 16 juin 2018 à Lyon.
Motor sport fans rejoice: Groupama Stadium will host the second edition of Monster Jam on Saturday, June 16th!

Straight from the United States, Monster Jam® involves gigantic 4x4 trucks performing acrobatic tricks on top of cars - truly a spectacle that must be seen to be believed.
---
MONSTER JAM RETURNS TO LYON ON SATURDAY, JUNE 16, 2018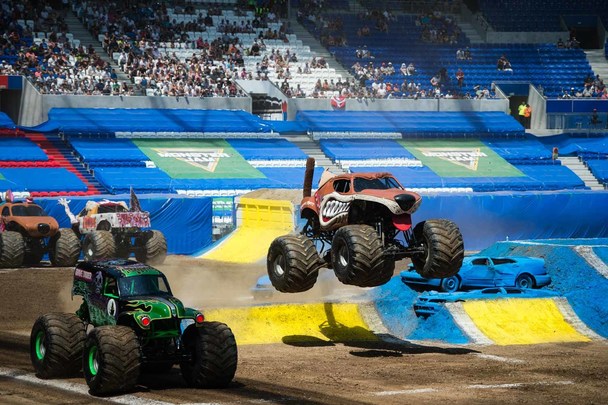 Among the Monster Trucks that will make the trip across the Atlantic are the famous Grave Digger® driven by Morgan Kane, Max-DTM, driven by Neil Elliott, and many others. They'll compete in freestyle races on the off-road circuit especially designed for Groupama Stadium. These 1500-horsepower, five-ton-plus behemoths are a truly a sight to behold for fans of all ages.
---
2018 EDITION MONSTER TRUCKS*
Show starts at 17:00
GD – Morgan Kane
Megalodon – Alex Blackwell
Zombie – Alx Danielsson
MAX D – Neil Elliott
MM Dalmatian – Cynthia Gautier
Monster Energy – Todd LeDuc
El Toro Loco – Marc McDonald
Earth Shaker – Colt Stevens
Dragon – John Zimmer
Scooby Doo – TBD
Vehicles may be subject to change.
---
MONSTER JAM PADDOCK PARTY
From 12:30 to15:30 on the stadium podium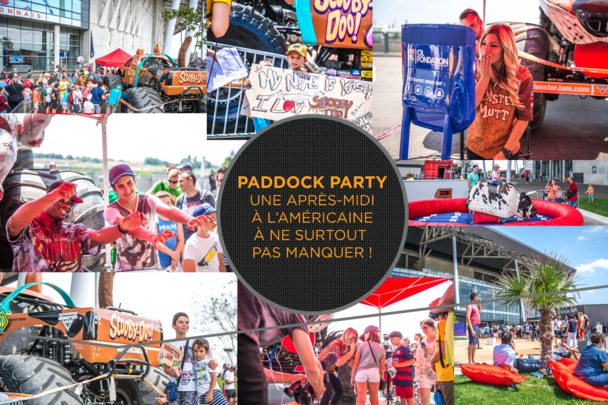 From 12:30 to 15:30, you're invited to take part in the Monster Jam Paddock Party!

The Monster Trucks and their star drivers will be there to meet all the Monster Jam fans, who'll be able to take pictures, get autographs and check out the insane rides up close… A rare opportunity to meet true legends of the sport and their mind-blowing vehicles.
The Paddock Party will also be packed with plenty of Food Trucks, endless activities and games for children, and, of course, a Monster Jam Shop so you can take home a souvenir!
Fans can enjoy it all for the low price of € 5 per child/ € 7 per adult.
---
MONSTER JAM TICKETS
General admission prices run from 15€ to 80€
Premium Seating
Go to the paddock party and enjoy the show from some of the best seats in the house !
By signing up for the premium package, you'll sit in an air-conditioned space, in more comfortable seats, enjoying the best views in the stadium next to multiple food vendors (meals not included).
Reduced Price*
Promotional offer from February 20 to March 11 available for:

OL season ticket holders and MYOL members
Those who have already attended three OL games during the 17/18 season

Discount for those who bought a ticket for the first edition of Monster Jam on the official OL channels
Discount for children under 18
Those elegible will receive an email on Tuesday, February 20 with a unique and non-transferable code in order to benefit from the reduced rate.
---
For more information on Monster Jam® on June 16, 2018,
visit the groupama-stadium.com event page