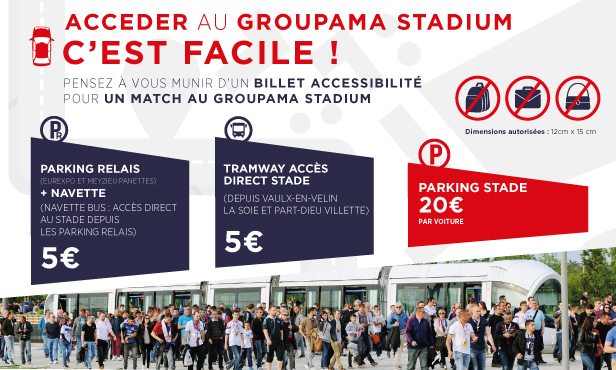 Find out the various ways to get to Groupama Stadium for Saturday's France-USA pre-World Cup friendly.
Stadium parking costs 20€
Parking at a "relay lot" (Meyzieu Panettes or Eurexpo), which provides direct shuttle bus service to the stadium, costs 5€.
Tramway service costs 5€, providing direct access to the stadium via the Part-Dieu Villette or Vaulx en Velin La Soie stations
Warning! Due to construction, the Tramway T5 line doesn't serve the Eurexpo station until August 31st. It will instead stop at the previous station: Parc Du Chêne. There will be no bus service between Parc Du Chêne and Eurexpo. We recommend that fans go to the Eurexpo station directly by car and not by public transportation.
---
ACTIVITIES AND SCHEDULES FOR FRANCE-USA
TIMETABLE
18h30: Beginning of pre-match activities
19h00: Stadium gates open / Opening of lodges and lounges
21h00: Kickoff
ACCESIBILITY SCHEDULES
18h00 Opening of the Eurexpo and Meyzieu Panattes relay parking lots
18h15 Opening of the stadium parking lots
18h30 First tramway shuttles (Part Dieu Villette Sud and Vaulx en Velin stations ) depart, with service until kickoff
00h00 Final tranway return shuttle departs from Groupama Stadium
00h45 Closing of the "relay" and stadium parking lots
---
PROHIBITED ITEMS
Attention: backpacks are prohibited, small purses are allowed:
Large bags (hiking bags, sports bags, suitcases, ...), backpacks, animals (except guide dogs or service animals), materials / media intended to be seen by third parties for political, ideological, philosophical or commercial purposes are prohibited. Professional cameras, GoPro, selfie sticks, are also prohibited.