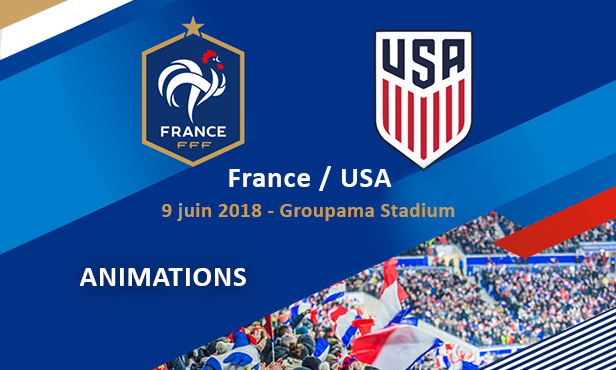 Saturday's pre-World Cup friendly between France and the United States at Groupama Stadium will feature plenty of pre-match activities for fans to enjoy before Les Bleus' send-off ahead of Russia 2018.
France wrap up their World Cup preparation Saturday night against the United States at Groupama Stadium, where there's sure to be a festive atmosphere during Les Bleus' final tuneup before flying to Russia.

Pre-match activities
There will be face-painting stations located outside the stadium beginning at 18:30 to deck fans out in the colors of France. Glasses, badges and other goodies will also be given away.

Beginning at 19:00 at the stadium stage, fans can enjoy a festive atmosphere and try get to get their hands on some of the Panini World Cup 2018 albums that will be given away!
> North Stage (Gate A - Blue Lion)
Try to win French Team schwag by attempting to score a shot on goal into the trunk of a Volkswagen car!
Show your support for Les Bleus by putting stickers on a special wall display!
Take a picture next to a giant French national team jersey! A massive, inflatable jersey will be on display at Gate A. .
> South Stage (Gates M, N - Red Lion)
At the south end of the stadium, a space dedicated to the FIFA Women's World Cup France 2019 ™ will offer plenty of activities for fans.
Try your luck at foot darts! Adults and children alike can try to score maximum points on the giant target. A few steps away, an inflatable football pitch will allow youngsters to enjoy themselves before heading into the stadium to support their team.
A second giant Team France jersey will be on display near Gate M.
---
Stadium activities
There will be a DJ playing music to get fans pumped up during the pre-match warm-ups. An honorary kick-off will be performed by Aimé Jacquet, legendary manager of the 1998 World Cup-winning French team.
Halftime activities will include the "KFC Bucket" game, where several participants in the middle of the pitch will aim for a giant bucket located in the penalty area, and the traditional "Orange Challenge" competition between two youth teams. .
---
<< Get more information about the France-USA
match in the Groupama-Stadium.com events page >>