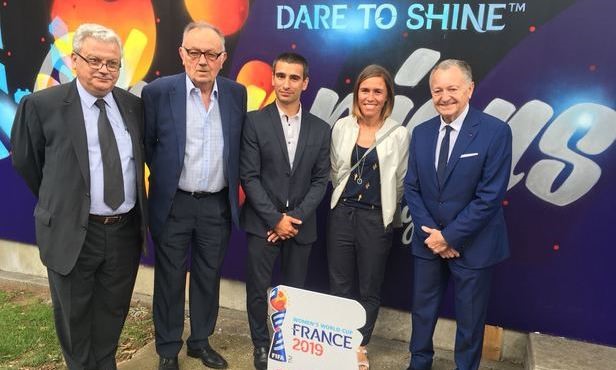 A year from now today, France will host the eighth edition of the FIFA Women's World Cup from June 7 to July 7, 2019.
A year from now, France will host the eighth edition of the FIFA Women's World Cup in nine different cities: Grenoble, Le Havre, Lyon, Montpellier, Nice, Paris, Reims, Rennes and Valenciennes.
On June 7, 2019, the Corinne Deacon-coached Les Bleus will play the opening match of the competition at the Parc des Princes in Paris.
Over the next month, the 24 best women's national teams in the world will compete in France will compete for the ultimate title, currently held by the United States. The final will be played on July 7th in Lyon. .
With the one-year countdown to the tournament officially underway, FIFA, the Local Organizing Committee (LOC) and the nine host cities have created an event with an original artistic feature in order to leave a lasting cultural legacy in the country.

Ametist and Morphem, two highly-celebrated street artists, have put together a unique mural paying homage to the competition and each of the nine participating cities. These creations, exhibited in symbolic places or highly-frequented locations, were unveiled to the media and the public on Thursday.
---
The 8th edition of the Women's World Cup will take place in France between June 7 and July 7, 2019
This 2019 World Cup will be an opportunity to promote women's sport and gender equality through various events, meetings, conferences, related initiatives and to enhance the attractiveness and dynamics of of Lyon - read a statement by the City of Lyon.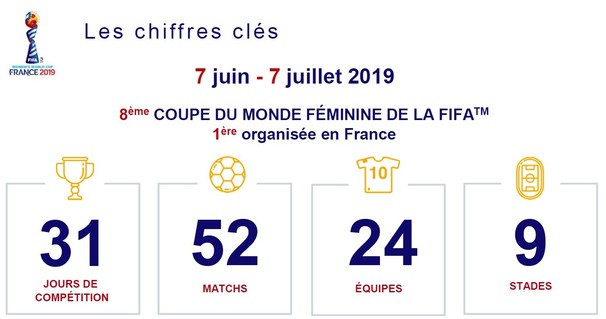 Lyon to host the semifinals and final
The semifinals will be played on Tuesday, July 2 and Wednesday, July 3, while the final will take place on 7 July at Groupama Stadium, home of Olympique Lyonnais.
A fitting location for the decisive matches of the tournament, given OL's influence over women's football in France and around the globe as five-time (2011, 2012, 2016, 2017, 2018) Champions League winners!
---
2019 FIFA Women's World Cup schedule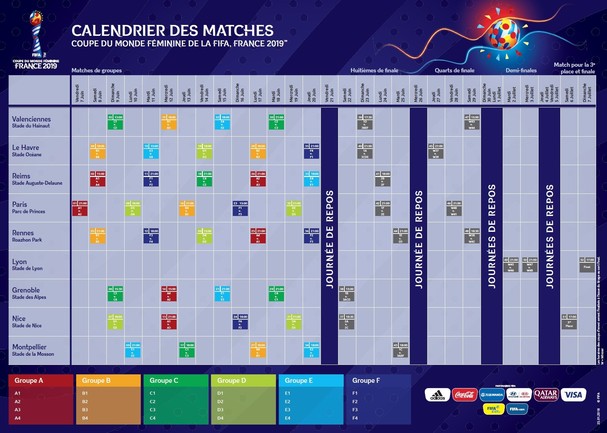 ---
Volunteer program
The Local Organizing Committee of the 2019 FIFA Women's World Cup France is looking for 350 local volunteers in Lyon to participate in the organization of the tournament from June 7 to 7 July, 2019.
A total of 2,500 volunteers will be recruited throughout France. To apply, you must meet three conditions: ​​be at least 18 years of age by 1 March 2019, be motivated and available on match days, as well as training days.