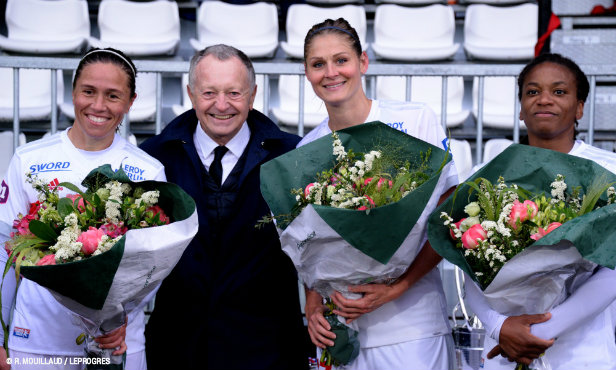 We look back at the brilliant careers of three Olympique Lyonnais stars who left the club at the end of the season: Corine Petit, Camille Abily and Elodie Thomis
A 2006 signing, Camille Abily helped OL win the first of a record twelve consecutive French championships. The following season, Elodie Thomis joined her as Lyon competed in their first campaign in Europe. Both players were key factors in that season's Women's Champions League quarterfinal against Arsenal. After a scoreless draw in the first leg, Abily and Thomis scored a goal apiece in a 3-2 win at England in the return match, as the French side advanced to the round of four.
Corine Petit, meanwhile, joined the club during the 2008-2009 season. Despite quickly changing from a midfielder to a right back, she never lost her offensive prowess. For example, her equalizing goal in the 2012 World Club final against Kobe in Japan. Petit also found the back of the net in the 2014 Coupe de France final against PSG. In total, "Cocotte" the acrobat played 219 matches, scoring 33 goals in 10 seasons at OL, winning 21 titles in the process.
...

.CORINE PETIT IN NUMBERS:.

34 years old / 10 seasons with OL

This season: 13 matches, 1 goal

With OL: 219 matches (45 UWCL), 33 goals

Honors: 21 titles (10 D1, 6 CDF, 5 UWCL)


S.

Élodie Thomis will always be remembered for her phenomenal speed. The fleet-footed winger of Martinique heritage gave opposing defenses constant headaches - both in the league and international club competitions. Memorable performances in the latter category include the 2012-13 Women's Champions League quarterfinal against Malmö and the Round-of-16 tie versus Atletico Madrid in the 2015-2016 edition of the tournament. "Thom" played a total of 276 games, scoring 107 goals in 11 seasons at OL, with 23 titles to her name.
...

.ELODIE THOMIS IN NUMBERS:.

31 years old / 11 seasons with OL

This season: 11 matches

With OL: 276 matches (64 UWCL), 107 goals

Honors: 23 titles (11 D1, 7 CDF, 5 UWCL)




Finally, Camille Abily has left an indelible mark at Olympique Lyonnais. The midfielder will remain forever one of the club's most emblematic players, both for her quality on the pitch and her locker room presence. We'll of course always remember her magical goal in the 2012 Women's Champions League final against Frankfurt, in front of the 50,000 spectators at the Olympiastadion in Berlin, not to mention her acrobatic stunner against Slavia Prague in the OL women's team's first match Groupama Stadium in 2016. "Radio Abily" finished her career in style, scoring her 209th goal in 326 matches for Lyon in the Women's Champions League final against Wolfsburg in Kiev. This would be her 23rd and last title with OL.
...

.CAMILLE ABILY IN NUMBERSCHIFFRES :.

32 years old / 11 seasons with OL

This season: 34 matches, 21 goals

With OL: 326 matches (record), 209 goals

Honors: 23 titles (11 D1, 7 CDF, 5 UWCL)

Petit, Thomis, Abily... with the departure of these three stars, a page has turned in the history of Olympique Lyonnais. It's now up to the new generation to write a new history for the club.