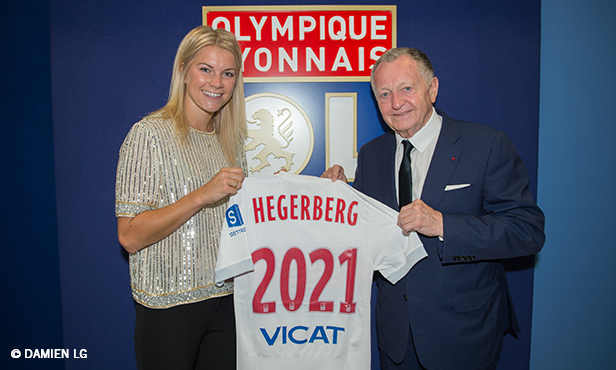 The Norwegian forward signed a contract extension Monday morning that will keep her at Lyon through June 2021.
Ada Hegerberg has extended her adventure with Olympique Lyonnais. A few days after Canadian international defender Kadeisha Buchanan re-upped with the club, the Norwegian striker followed suit by signing a new contract linking her to Lyon through 2021 - an additional two seasons.

Since arriving in 2014, Hegerberg has become an integral part of the team, scoring 34 goals in 32 games in her first season in France. The 22-year-old striker was even more dangerous in 2015-2016, finding the back of the net 54 times, including a goal in the Women's Champions League final, earning UEFA Player of the Season honors in the process. This season, Hegerberg was just as productive, scoring 53 goals - including 31 in D1 Féminine (top scorer for the 3rd time) - and 15 in the Women's Champions League (a new competition record).

Ada Hegerberg :
It's a beautiful day, I'm very happy. Staying here is the best decision I could make. I am at the best club, working in the best conditions. I can give the best of myself. This is my home, I'm really happy. I've been at OL for four years, it's my second family. I feel appreciated and I appreciate this club. If we continue to work well, there are still many years to come.


Reynald Pedros:
« We are in the process of doing what we started at beginning of the season - that is, keeping our best players. Despite her young age, Ada is one of the leaders of this team. It was important to keep her on board. Before signing new players, we must first keep our best players. We are very happy that Ada has extended her contract and will continue her adventure with us. »

Jean-Michel Aulas :
« Ada told me a few hours before the final in Kiev that was had chosen to extend her adventure with us. We are very happy because she's not only a great player, she's also a great teammate. It's a great day for Olympique Lyonnais. »