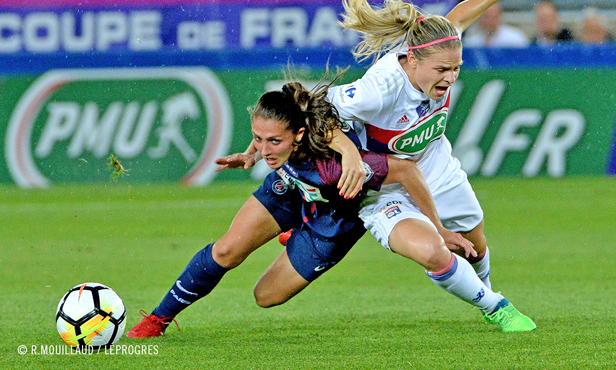 With Thursday's 1-0 defeat in Strasbourg, Lyon fell short of a third straight treble, instead ending the season with two major trophies.
AT A GLANCE .
16'. Katoto puts PSG in the lead with a classy finish. 1-0
37'. Amandine Henry's shot is blocked by the Parisian keeper.
59'. A violent thunderstorm in Strasbourg causes an hour-long delay.
59'. The match re-starts after a long break.
90. Shanice van de Sanden is denied by the post.
90+4'. Ada Hegerberg heads home a last-gasp equalizer, only to be called for a foul.

---
. THE MATCH.
After 12 consecutive French titles and five European championships, their third in a row, the OL women's team was looking to cap off another spectacular season with its eighth straight Coupe de France crown. The stage was set at the Stade de la Meinau for a third straight treble. Lyon had won their previous three finals against PSG, but just two weeks earlier had played to a scoreless draw in the league against Thursday night's opponent. Despite controlling the match, Wendie Renard and company were put in a hole just past the quarter of an hour mark after Marie-Antoinette Katoto capped a nice Paris build-up with a classy finish (16 ', 1-0).
Just 13 minutes into the second half, a violent storm caused an hour-long delay. Play eventually resumed, but OL's comeback attempt was made that much more difficult by a flooded pitch. A shot against the woodwork and a disallowed goal would eventually doom OL in a night that just wasn't meant to be - especially for the team's three departing stars: Elodie Thomis, injured but in attendance, Corine Petit and Camille Abily. The end of a nearly perfect run over three seasons. And the end of an era.
It's been another incredible, history-making season! ????????
Thank you ladies! ???????????? #TeamOL ???????? pic.twitter.com/RRgoRe2kIu

— OL English (@OL_English) 31 mai 2018
. THE MOMENT .
Pain in the rain
With just under an hour in the books, the referee sent both teams back to their respective locker rooms. The reason? A violent storm that drenched the Stade de la Meinau for nearly an hour. After the extended delay, Lyon returned to a sodden, almost unplayable pitch. Despite dominating the final stretch of the match, OL were unable to come back from a one-goal deficit and saw their treble dreams dashed in heartbreaking fashion.
---
...

. BOXSCORE .

Stade de la Meinau, Strasbourg.

Women's Coupe de Frane (Final): PSG - OL: 1-0 (1-0).

Referee: Florence Guillemin.

Goal: Katoto (16') for PSG.

Bookings: Delie (29'), Endler (81') and Diani (90+2') for PSG. Le Sommer (40'), Henry (41'), van de Sanden (52'), Mbock (90+4') for OL.

PSG: Endler - Périsset, Erika, Geyoro, Paredes, Lawrence - Diallo, Formiga (cap.) (Formiga, 77'), Diani - Katoto (Baltimore, 86'), Delie. Coach: Bernard Mendy.

OL: Peyraud-Magnin - Bronze, Buchanan, Renard (cap.), Bacha (van de Sanden, 23') - Henry, Kumagai (Cascarino, 46'), Majri (Mbock, 82') - Le Sommer, Marozsan, Hegerberg. Coach: Reynald Pedros.