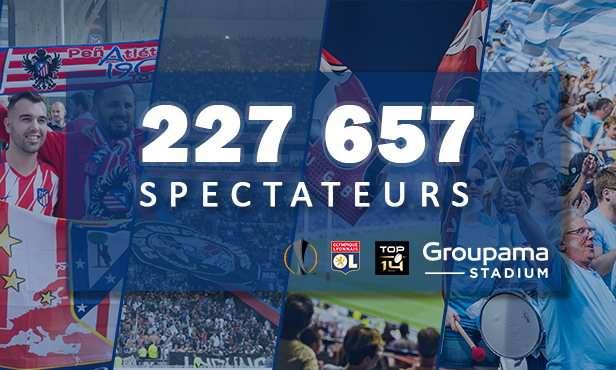 Groupama Stadium has registered a record attendance rate, with nearly 230,000 spectators visiting the grounds between May 16 and May 26!
At the tail end of the 2017-18 season, Groupama Stadium hosted some of the biggest national and international competitions of the year. Four major sporting events attracted 227,657 fans in 10 days - an exceptional performance that confirms the attractiveness of this multifunctional arena.

The stadium hosted the legendary UEFA Europa League final, a historic event at Groupama Stadium. Three days later, Lyon fans witnessed OL's fantastic Ligue 1 season finale win against Nice. On May 25th and 26th, the semifinals of the rugby Top 14 closed out an exceptional month!
---
UEFA EUROPA LEAGUE FINAL
On May 16, over 55,000 fans saw Atletico Madrid beat Olympique Marseille 3-0 to hoist the Europa League crown. A great moment for the Spanish club that wrote a new chapter in its history at Groupama Stadium. .
OL - NICE
On Saturday, 19 May, a season-high 56,953 spectators witnessed OL qualify for next season's Champions League with a 3-2 win over Nice in a thrilling final Ligue 1 Conforama match day.
TOP 14 SEMIFINALS
On May 25 and 26, the rugby Top 14 semifinals took place at Groupama Stadium. Following two memorable matches, Montpellier and Castres qualified for the 2018 Top 14 grand finale.

Groupama Stadium welcomed 114,936 fans in less than 24 hours! In fact, the record attendance for a sports match was broken, with 58,664 spectators witnessing the the Montpellier Hérault-Lou Rugby match.
---
Groupama Stadium once again has demonstrated the full extent of its potential to become a required event destination in France and Europe. The stadium will host the France-United States World Cup preparation match on Saturday, June 9 and the second edition of Monster Jam on Saturday, June 16!

<< Get information on all upcoming events at the Groupama-Stadium.com website. >>