OL Football Traineeships
Football, football and football again...
a qualified team serving one passion: football!
more than 4 hours of training per day,
technic content of one season concentrated in one week,
a trace from one year to another thanks to the player cards
best young players contact information given to the OL recruitment cell,
top of the line sportive installations, 5 hectares of grass pitch, a comfortable and modern accommodation on one place to reduce trips and increase the practice time.
Football, but not only!
an animators team who takes in charge the daily life
a lot of outdoor sportive activities included in the traineeship costs to discover the mountain and make a football break (Adventure Course, biking, horse riding, climbing, golf...)
For more information: http://stagesh3s.jimdo.com/stage-été/
or contact : Axelle on 04.74.40.00.43 | stages-indiv@hauteville3s.com
OL Trips
OL Trips offers you to accompany the Olympique Lyonnais during its trips, to organize your future holidays in France or abroad, or to book your next visit at the Club Med !

15 place Charles et Christophe Mérieux, 69007 Lyon
http://voyages.olweb.fr/

Opening hours: from Mondays to Fridays from 10a.m to 12.30p.m and from 2p.m to 6p.m.
Access: Debourg Underground | Bus N° 60 (Jean Macé) and Bus N° 32 de Perrache.
OL Brasserie St-Exupéry
It's during your trips that you could have lunch in the airport Saint Exupéry OL Brasserie. A brewery fully decorated with the club colors, in a comfy and warmth environment! Support you team and enjoy a relaxation moment.
Access
Airport Lyon-Saint Exupéry Terminal 1
BP 197 - 69125 Colombier Saugnieu | Acces plan
Opening hours
7/7 from 11a.m to 10p.m.

OL CAFE Carré de Soie
It's in the heart of the brand new "Carré de Soie" mall in Vaulx en Velin that you could enjoy a relaxation break in the OL universe. Come support your team by watching matches on screen, and having a drink!
Access
Loisirs et de commerce Carré de Soie
2 rue Jacquard - 69120 Vaulx-en-Velin | Access plan
By Tram: T3 line - stop Vaulx-en-Velin La Soie,
By Underground: A line - stop Vaulx-en-Velin La Soie,
By Bus : 16, 52, 64, 68, 82, Zi3 lines
Opening hours
7/7 from 10.30a.m to 11p.m.
OL Café Pathé Vaise
Before seeing your movie, have a break and have a snack in a completely dedicated OL universe. Come support your preferred club by watching matches on screen, and having a drink.
Access
43-45 rue des Docks - 69009 Lyon | Plan d'accès
Underground: D line: Station Gare de Vaise
Bus, 31 - 43 lines, Stop J. Marcuit.
Opening hours
From Mondays to Saturday from 1p.m to 11p.m | On Saturdays from 11a.m to 11p.m.
Open during the school vacation on mornings from 11a.m.
The Argenson Gerland
Before and after the show, the Paul Bocuse cuisine. The Argenson Gerland restaurant is one of the 5 restaurants of the Paul Bocuse group. It offers a particularly nice environment, at the Maison Bocuse image, for sport lovers customers and cuisine lovers. This place proposes a welcoming favorable to business for business customers who are concerned to offer their clients or prospects one of the best Lyon cuisine.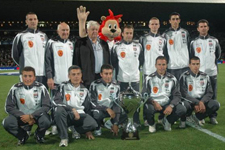 Cro Lyon Boules
The CRO LYON Boules is a sportive association anchored for more than 60 years in la Croix Rousse, Boule Lyonnaise's cradle. Since 2004, the OL partnership increased significantly the CRO media coverage. This phenomenon affects non only the club image, but also helps totally a best identification of the boules sport.
Prizes list
Winner of the clubs Europe Cup in 2004, 2006 and 2008
France Champion of the sportive clubs in 2007, 2008 and 2009
to highlight only the principal ones.
Clos des Canuts - 6 impasse Gord - 69004 LYON
Phone : 04 78 27 83 01 | Fax : 04 72 07 75 86
Web site : http://www.crolyon-boules.com
Email : contact@crolyon-boules.com
Access : Underground C - Station Hénon