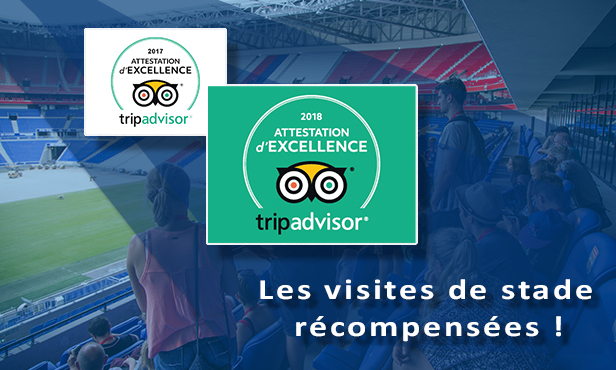 For the second straight year, Groupama Stadium Tours have received the "TripAdvisor Certificate of Excellence." Already distinguished in 2017, Olympique Lyonnais have once again been rewarded for the quality of their stadium tours. This distinction honors all the guides who work to offer visitors an unforgettable experience at Groupama Stadium.
About the "TripAdvisor Certificate of Excellence"
Since 2011, "The TripAdvisor Certificate of Excellence" honors tours, attractions, restaurants, accommodations and rentals around the world that provide quality, long-term service, as well as the daily work of professionals who continuously provide fantastic customer experience.

The award rewards approximately 10% of all establishments listed on TripAdvisor that have consistently received excellent reviews over the past year.

An award based on customer reviews
More than 80,000 people have visited Groupama Stadium and more than 450 reviews [the majority described as "excellent"] have been posted on the website for an average of 4.5 out of 5. Visit the Groupama Stadium TripAdvisor listing.
Edeline - «Fantastic visit»
We had the pleasure of visiting Groupama Stadium accompanied by a particularly friendly and passionate guide. She was able to share her passion for this place and make us appreciate the smallest corners of this great building. We will definitely come back and recommend this visit to all our friends
Justine – «A Superb moment»
I came to visit the stadium with my father, who had never been to Groupama Stadium before. We loved it. Unfortunately it goes by very quickly so it's interesting. I want to thank our great guide, we had a great time with him, it was really a lot of fun, and we will come back without hesitation! Thanks to him for a great afternoon!
Maxence - «Discovering a beautiful stadium»
Excellent stadium visit of a great club. Very interesting for football fans and non-fans alike to discover behind-the-scenes aspects and facilities of a high-level club: locker rooms, VIP areas, the pitch ...
Every Wednesday and Saturday, guided tours give you behind-the-scenes access to Groupama Stadium!
<< Visiting Groupama Stadium is easy: book your stadium tour HERE>>