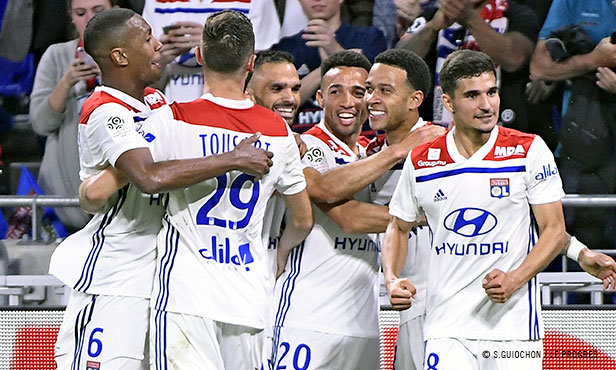 Lyon capped off their Ligue 1 Conforama season with a 3-2 come-from-behind win against Nice at home to finish in third place and earn an automatic berth for next season's Champions League.
. AT A GLANCE .
18'. Plea gives Nice the lead on a breakaway. 0-1.
23'. Aouar's close-range header is kept out of goal by a diving Benitez.
32'. Traoré clangs a header off the post.
48'. Memphis fires home from close range to even the score. 1-1.
62'. Balotelli, alone in front of Gorgelin, shoots way over the bar.
65'. Memphis sends his free kick under the defensive wall. 2-1.
80'. Gorgelin makes an acrobatic save to deny Plea.
87'. Traoré with a perfect ball for Memphis, who chips it over Benitez for the hat-trick. 3-1.
89'. Plea cuts into Lyon's lead. 3-2.

.THE MATCH.
After 37 games, Lyon's season came down to one final test on Saturday night against Nice. With a win in front of their fans at Groupama Stadium, Les Gones would be guaranteed a top-three finish and an automatic berth in the Champions League. Despite a promising start by the home side, it was the visitors who drew first blood when Plea caught Gorgelin flat-footed after a nice breakaway (18 ', 0-1). A goal that silenced the crowd, even more so with the news that Marseille had taken an early lead in their respective match. Sitting in fourth place, OL looked for a response through Traoré, whose point-blank header clanged off the post (32').

Things would change dramatically in the second half, thanks to Memphis. Immediately after the break, the Dutchman took advantage of Nabil Fekir's enormous effort inside the opposing team's area to push the ball into the net and level the score (48', 1-1). A deserved equalizer that OL almost wasted, only for Balotelli (62') to shoot over the bar when he had Gorgelin at his mercy. Memphis would work his magic once again, this time by firing a free kick under the defensive wall (65 ', 2-1) to put Les Gones ahead. And with three minutes remaining, the Man of the Match finished off his hat-trick with a perfect chip shot over Benitez (87', 3-1). Plea would strike once more just before full time (89', 3-2) but it was nothing more than a scare for a Lyon side that will be back among Europe's elite next season.
. THE STAT .
22
With Saturday's win against Nice, OL booked their spot in next season's Champions League. For the 34th time in team history, and for the 22nd season in a row, Lyon return to the continental stage. Bruno Genesio and company will be back in Europe's premiere club competition after a two-year absence. It will also be Les Gones' 17th overall participation since the 1999-2000 season, when they made their tournament debut.
---
...

.BOXSCORE .

Groupama Stadium.

L1 (Week 38) : OL – OGC Nice 3-2 (0-1).

Referee: Benoît Bastien. Attendance: 56,953.

Bookings: Morel (40'), Rafael (70') and Ferri (71') for OL. Balotelli (20'), Benitez (53') and Plea (70') for Nice.

Goals: Memphis (49', 65' and 87') for OL. Plea (18' and 89') for Nice.

OL: Gorgelin – Rafael (Marçal, 78'), Marcelo, Morel, Mendy – Tousart, Ndombele (Mariano, 46'), Aouar, Fekir (cap.)(Ferri, 84') – Memphis, Traoré. Coach: Bruno Genesio.

OGC Nice: Benitez – Souquet, Marlon, Dante (cap.), Le Marchand – Cyprien, Tameze (Le Bihan, 72'), Seri – Saint-Maximin (Srarfi, 78'), Balotelli, Plea. Coach: Lucien Favre.

...