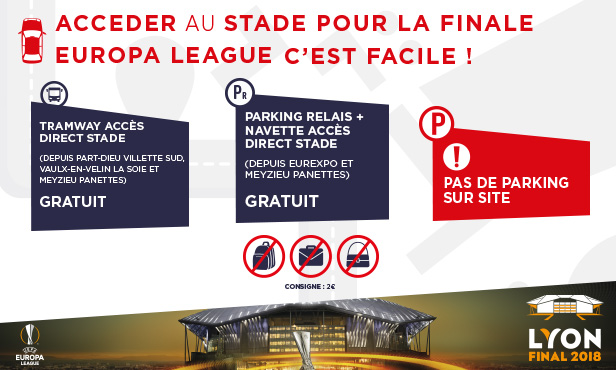 Find out about all the available transportation options to arrive at Lyon's Stadium on Wednesday, May 16. Please note: there will be no stadium parking that night.
PLEASE NOTE! YOU WILL NOT BE ABLE TO PARK IN THE STADIUM
All vehicles will be subjected to checks: there is no possibility of entering the stadium without a parking badge.
Fans can park at a nearby, "relay" lot (Meyzieu Panettes or Eurexpo) and then board a free shuttle bus that takes you directly to the stadium.
Fans can take the Shuttle Tram, which goes directly to the stadium from the Part-Dieu Villette and Vaulx Velin Silk stations.
Fans can take Line T3 on the Lyon tramway. Shuttle buses from Parilly are also set up for this event.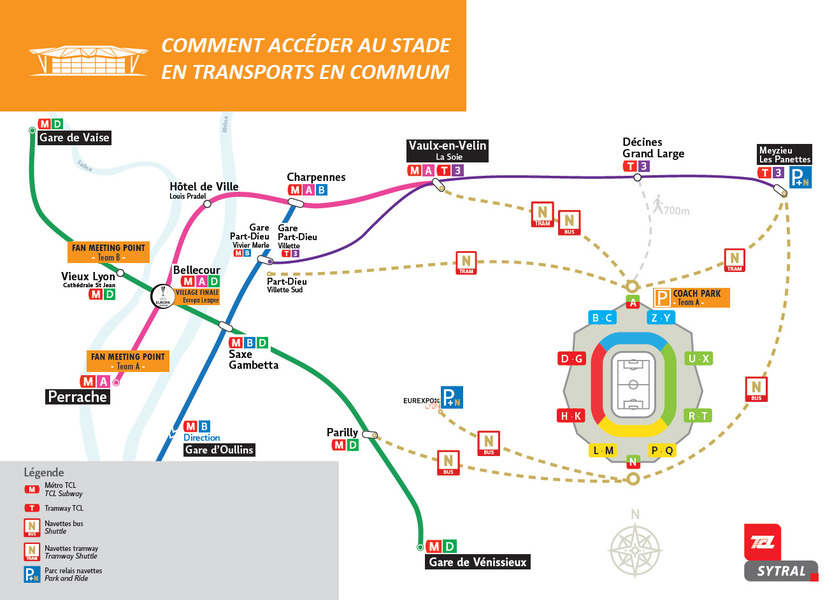 ---
MATCH DAY SCHEDULE
17h45 Opening of the podium and beginning of pre-game activities
17h45 Stadium gates open / Opening of stands and lounges
20h45 Kickoff
TRANSPORTATION/ACESS SCHEDULE
16h45 Opening of the Eurexpo and Meyzieu Panettes relay parking lots
17h15 First tram shuttle departures (Part Dieu Villette Sud and Vaulx en Velin ) until kickoff
00h30 Final departures of the returning tram shuttles
01h15 Relay parking lots close
ADDITIONAL MATCH DAY INFORMATION
Groupama Stadium– 10 avenue Simone Veil 69150 Décines – Coordonnées GPS : 45.765092, 4.981988
Avoid bringing large bags and luggage to the stadium, as they won't be allowed (book bags are prohibited, small bags and purses are permitted).
Bag storage is available for € 2 and located at the bottom of the north and south stadium ramps.
For safety reasons, safety patrols will be conducted by the Groupama Stadium security teams on the various access ramps to the podium.
Make plans to arrive early.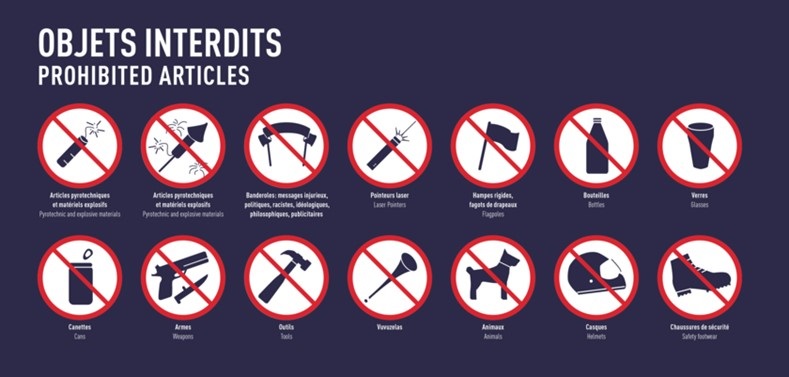 Please note: Backpacks are prohibited, small purses are allowed:
Large bags (hiking bag, sports bags, suitcases, ...), backpacks, animals (except guide dogs or service animals), materials / media intended to be seen by third parties for political, ideological, philosophical or commercial purposes are prohibited.
Bag storage is available for € 2 and located at the bottom of the north and south stadium ramps.