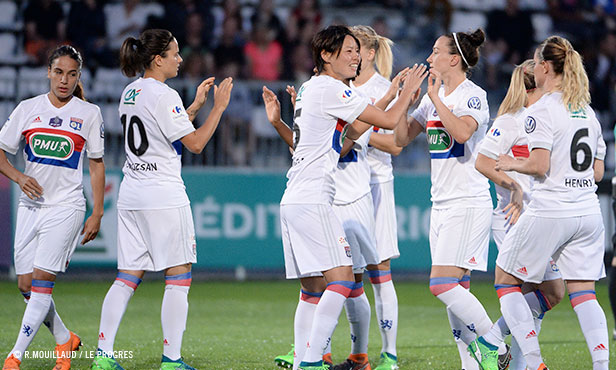 Four different players scored as Lyon dominated the proceedings from beginning to end Monday night, sealing their spot in the May 31 final against PSG while keeping their treble hopes alive. OL are looking for their seventh straight title in this tournament.
. AT A GLANCE .
20'. Le Sommer finishes a superb give-and-go with Majri. 1-0.
41'. Kumagai's penalty kick is saved by Murphy.
54'. Majri scores on Bacha's perfect service. 2-0.
56'. Henry finds the back of the net with a diving header. 3-0.
82'. Hegerberg seals the deal late in the game. 4-0.
---
. THE MATCH.
In a one-sided affair, Reynald Pedros' players took charge of the proceedings from the opening whistle and got their reward in the 20th minute when Eugénie Le Sommer slotted home a fine service from Amel Majri to open the score (1-0). The six-time defending title holders kept their foot on the gas throughout the first half, but failed to increase their lead shortly before the break when Kumagai's penalty kick was stopped by Murphy.

Once the second half came around, OL finally put the game away thanks to Majri's clinical finish following a nice team move (54', 2-0). Amandine Henry made it 3-0 just two minutes later with a diving header. With eight minutes to go, Ada Hegerberg finished the job by scoring an empty netter after Van de Sanden hit the crossbar (4-0). Wendie Renard and company are once again in the Coupe de France final, where they'll face PSG on May 31 looking to put one of the pieces together for the season treble.

. THE MOMENT .
Le Sommer and Majri make magic together

Twenty minutes into Monday's match, Eugénie Le Sommer laid the path for Lyon to advance to their seventh straight Coupe de France final. After leaving two defenders in the dust, the striker set up a fantastic 1-2 with Amel Majri, leaving her alone in front of Montpellier's keeper. A player of her quality doesn't miss these chances, and Le Sommer slotted home a left-footed drive to set OL on their way.


. THE STAT .
7
With Monday's win over Montpellier, OL have qualified for their seventh Coupe de France final in a row. In total, the Lyon ladies have made it to 11 finals and are 90 minutes away from their 8th title, which would further cement their status as the most successful club in French football.
.

BOX SCORE

.



Groupama OL Training Center

CDF (semifinal): OL Women - Montpellier HSC 4-0 (1-0)

Referee: Vanderstichel Maika.


Goals: Le Sommer (20'), Majri (54'), Henry (56'), Hegerberg (82') for OL.


Bookings: Marozsan (67') for OL.


OL: Bouhaddi - Bronze, Buchanan, Renard, Bacha - Kumagai (van de Sanden, 79'), Henry (Abily, 71'), Marozsan, Le Sommer (Cascarino, 65'), Majri, Hegerberg. Coach: Reynald Pedros.


MHSC: Murphy - Torrent, Dekker, Sembrant (cap.), Agard - Cayman, Le Bihan (Mondésir, 82'), Torrecilla, Veje (Blackstenius, 65') - Gauvin (Toletti, 70'), Jakobsson. Coach: Jean-Louis Saez.


...