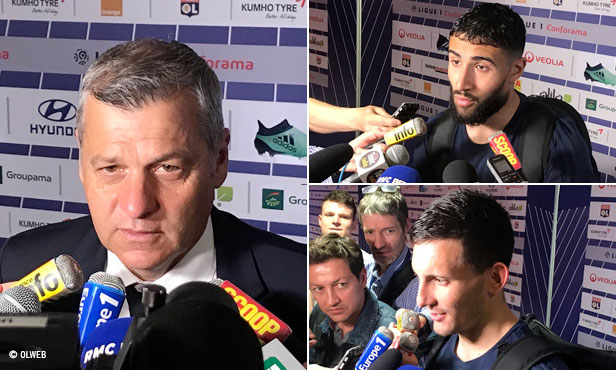 Lyon's coach and his players spoke to OLTV after Sunday's 3-0 win over Troyes.
Bruno Genesio
« Today's performance was worse than the one against Nantes. We played a good first half, making the difference by being effective on offense... We lost a bit of physicality in the second half but recovered in time. You have to be strong mentally. The team that best manages these last two games will come out on top »
Nabil Fekir
« We lacked a little bit of rhythm, but the important thing is that we won. We continue our journey hoping that our competitors perform poorly. We were patient this afternoon and we found the opening goal. It won't be easy next weekend at Strasbourg. We have a week to prepare.
Lucas Tousart
« We had to adapt to the heat... We had trouble getting started. We are happy with the three points, they're essential in this final stretch. Physically, we weren't as fresh and our rhythm wasn't that great. We will keep our eyes on the other results. We did our part and will continue this journey. »
????️ @lucas_tousart29: "We could have done a little better today. We'll take the three points, which is the most important thing in this race for second place. We got the job done. There are still two games left." #OLESTAC pic.twitter.com/Me1sRZUf2g

— OL English (@OL_English) 6 mai 2018
Mathieu Gorgelin
« The water break helped us, we were able to open the score shortly after ... I was involved in a few plays, which helped me and gave me confidence. I feel good after this first outing. I did not have much to do after that. I made a key save in the second half ... Nothing changed in my preparation, I did my usual work. »
Grégory Coupet
« Mathieu Gorgelin really impressed me with his game in the air... I've been training him as a number one keeper since starting the job. He was able to reproduce what he does in training. He made an exceptional save on the free-kick. The pressure is there, but he never shows it... I avoided doing too much during training so as to not add more pressure on him. We need to trust each other ... Anthony Racciopi... is in a very positive dynamic. The coach wanted to reward him. »