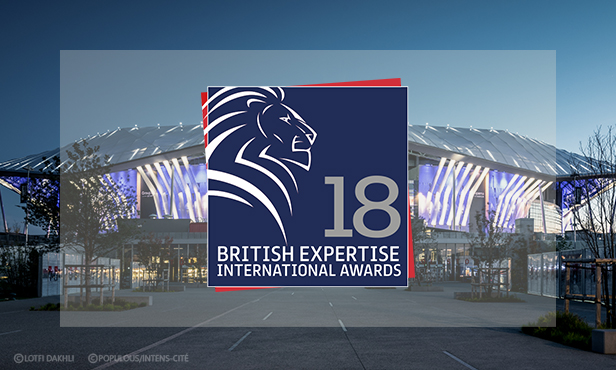 Groupama Stadium and architecture firm Populous won the International Architecture & Design Project prize at the British Expertise International Awards 2018.
The British Expertise Awards recognize the international achievements of professional services companies in the United Kingdom.

Designed by the British firm Populous, Groupama Stadium competed in the category of International Architecture & Design Project. Thanks to its innovative design and strong local impact, it was able to win the prestigious award, beating out architectural firm Twelve Architects & Masterplanners, nominated in the same category for the Platov Airport in Russia.

---
NUMEROUS DISTINCTIONS
Since its inauguration in January 2016, Groupama Stadium has received several distinctions. In particular, it was voted the finest stadium of EURO 2016 and won the Trophy of respect for the environment during the same competition.
In 2017, its application received by the "Stadium Hyundai" Trophy, which rewards innovations to enhance the spectator experience in stadiums.
This new distinction confirms the attractiveness of Groupama Stadium on the international scene.
---
80 EVENTS FOR MORE THAN 3 MILLIONS VISITORS !

Groupama Stadium hosts some of the world's biggest events with a rich and varied program all year long to become a required destination in both France and Europe. .

The stadium has hosted many prestigious matches in national and international football competitions: Euro 2016 (elected the most beautiful stadium of the competition), 2017 League Cup Final, Champions League and Europa League.

The full extent of its potential was realized by hosting the European Rugby Champions Cup in 2016 and the French XV-All Blacks match last November. Equipped with an open skating rink, the stadium also hosted an outdoor Ligue Magnus ice hockey match between Lyon and Grenoble on December 30, 2016, recording a record attendance of 25,124.
Groupama Stadium has also become an off-road track for Monster Jam, organized for the first time in France. This American show will be back on Saturday, June 16, 2018! The stadium has also held concerts for top recording artists such as Rihanna, Coldplay and Celine Dion.
In the near future, the stadium will host the UEFA Europa League Final, the Top 14 Rugby semifinals, the France-USA international friendly, as well as the Women's World Cup in 2019.