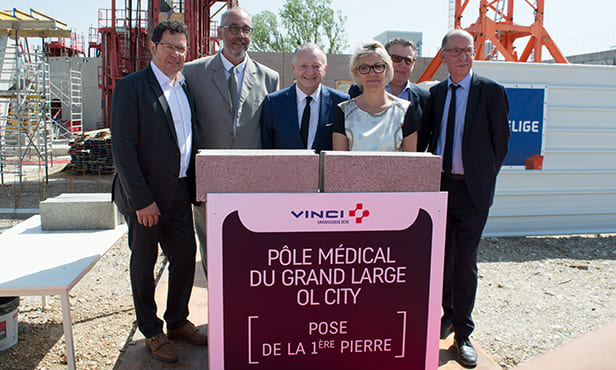 Laying the foundation stone of the Grand Large Medical Center - OL City and the Analysis Laboratory in the heart of the "OL CITY" business park in Décines-Charpieu on Wednesday, April 25.
Roland Crimier, Vice-President of the Metropolis of Lyon in charge of the GRAND MONTOUT project, Laurence Fautra, Mayor of Décines-Charpieu and Metropolitan Councilor, Jean-Michel Aulas, President of Olympique Lyonnais and Chief Executive Officer of OL Groupe, Frédéric Herlemont, President of the Specialized Association Consultation Center of Décines Grand Large Medical Center - OL City, Hervé Jouve, President of UNILIANS, and Serge Masson, Deputy Regional Director of Residential Real Estate and Territorial Director Rhône of VINCI Immobilier, have laid the foundation stone of the Medical Center & Analytical Laboratory in Décines-Charpieu, in the presence of Olivier Ganne, President of the Medical Commission Establishment of the Grand Large Clinic.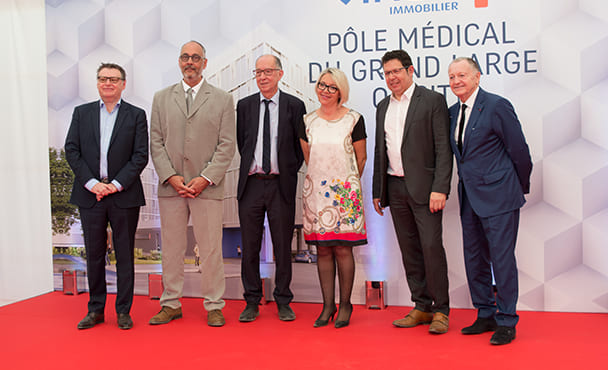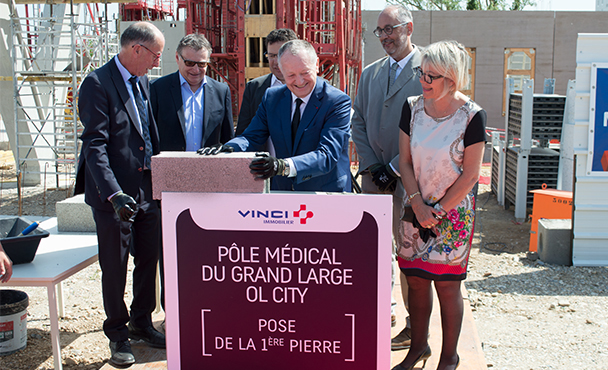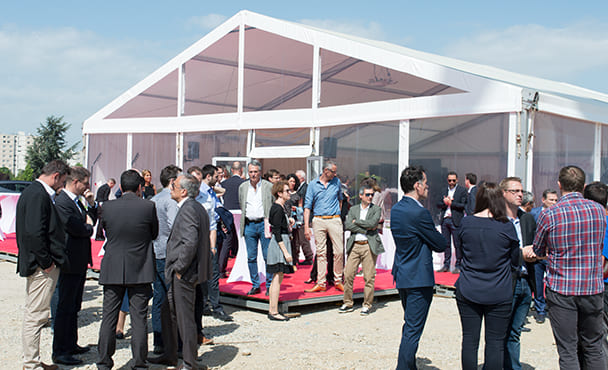 The creation of this medical center and analysis laboratory is an important new step, not only for us, but also for the people of East Lyon and the Greater Metropolitan area. With OL City, we want to offer a vibrant, living place, open 365 days a year.

The implementation of this medical center and analysis laboratory is part of a larger development program, including the construction of an office building, a leisure center and a 3-star hotel. OL City now offers multiple services: social, sports, medical, cultural and even artistic! Jean-Michel AULAS, President of OL Groupe.
---
A new servicein the immediate vicinity of Groupama Stadium: a 3,000 m² medical center and a 2,300 m² analysis laboratory
---
A major undertaking, the Medical Center & Analytical Laboratory will boast 15 medical specialties, a radiology center, a physiotherapy center, as well as a technical platform and external care. Consultations will take place at the Groupama Stadium location and patient hospitalizations will take place at the Médipole Lyon-Villeurbanne.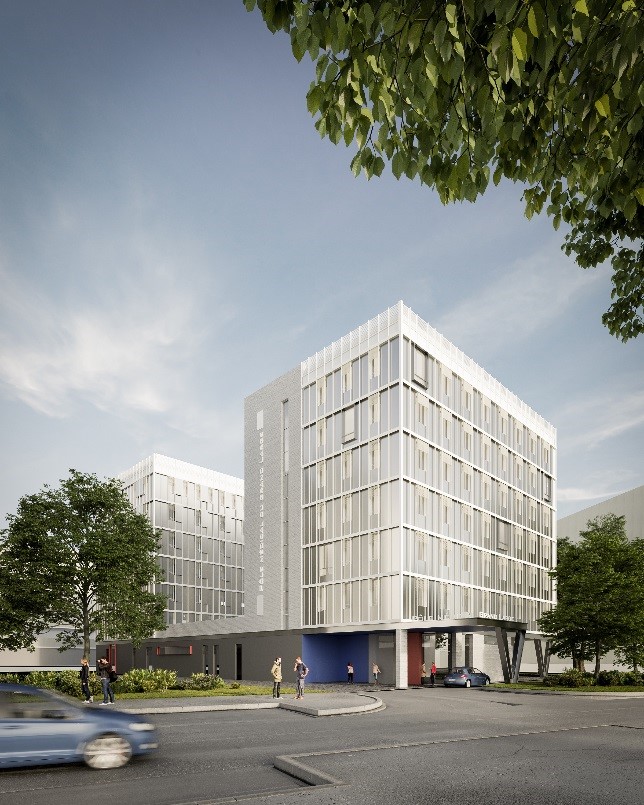 This huge project with a total surface of 5,300 m² consists of two buildings connected by a plinth. The first building, 3,000 m2, will bring together on six floors all the consultation activities of the Grand Large Clinic, namely: :
Angiology, Anesthesia, Cardiology, Gastroenterology, Gastrointestinal Surgery, Gynecological Surgery, Oral Surgery and Implantology, Sports Medicine, Orthopedic Surgery, Ophthalmic Surgery, ENT Surgery, Vascular Surgery, Radiology Center (CT Scanner and Conventional Radio), Kinesitherapy Center , (Balneotherapy), technical and outpatient facilities, a pre-admission office for patients who will be hospitalized at the Médipôle
The logic behind this arrangement comes from the need for practitioners to remain in the territory they have been occupying for many years and to continue to offer quality local medical service to their patients. CAPIO, a leader in European healthcare that is also a member of the association, will be present in this medical center.
The second, 2,300 m², five-floor building, has been acquired in its entirety by UNILIANS. The multi-site biology laboratory (Loire, Rhône, Savoie and Haute Savoie) will set up its head office for pre- and post-analytic activities, including a floor for patient reception and sampling, floors for regional multidisciplinary technical levels, a logistics floor and offices. The stairwells of the building will be clad in iridescent polycarbonate panels. These are translucent panels, which will also cover the entire leisure area but also partly the hotel and office buildings, to give overall consistency to the area.
Designed by Bruno DUMETIER, an architect renowned for his expertise in the fields of architecture, urban planning and landscape, the Grand Large Medical Center - OL City and the Analysis Laboratory will open their doors in the spring of 2019.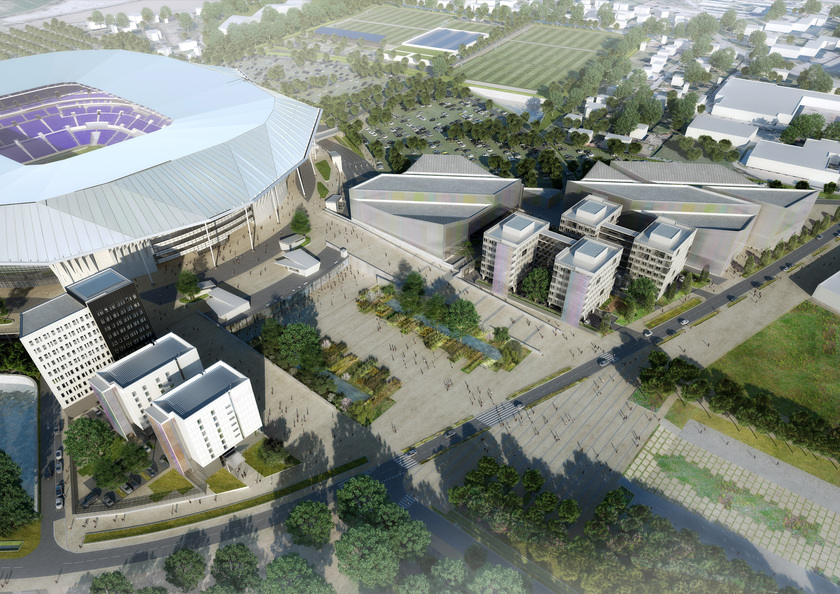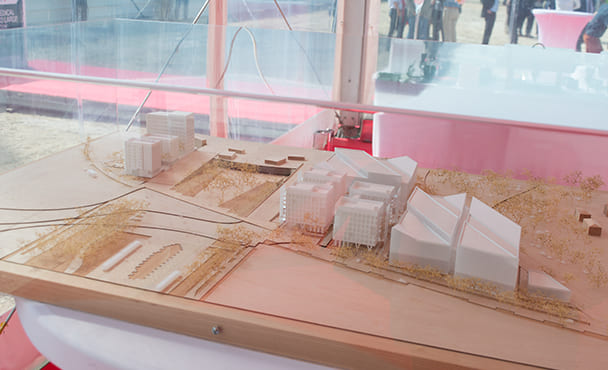 The brainchild of VINCI Immobilier, this operation is part of a broader development program conducted within Groupama Stadium, including the construction of an office building (construction started at the end of 2017), a leisure center (planned for spring of 2020) and the three-star, 140-room "KOPSTER" hotel, acquired by the LAVOREL group, which will offer quality and local accommodation solutions to business travelers, tourists and supporters beginning in the third quarter of 2018.