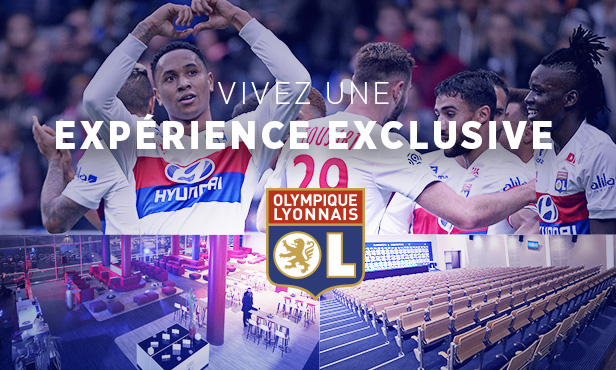 Go behind the scenes of Olympique Lyonnais in the Groupama Stadium; participate in a special match-night experience!
The VIP Experience allows you to get behind the scenes of the pre-match scenario: from the off-the-bus welcome for the two teams to the warm-up on the pitch, followed by a pre-dinner drink in the VIP rooms of the Club Des Cent, not to mention a plunge into the bowels of the stadium: everything is put in place to give you and and your friends & family some very special memories.

---
| | |
| --- | --- |
| Does your passion for OL know no bounds? | Looking for an unforgettable experience? |
| On the lookout for a novel treat? | A unique stadium experience! |
---
Come and see a game at the Groupama Stadium and sign up for one of our VIP experiences so you can have an unforgettable blast at the Groupama Stadium.
The "VIP Experience" consists of:

• Your arrival at the Groupama Stadium organised from A to Z.

• A two-and-a-half hour behind-the-scenes immersion that includes access to special areas of the Groupama Stadium before the match: a comprehensive tour of the VIP rooms and the OL TV studios; discover the stadium auditorium (which hosts the press conferences and the post-match question time) as well as the mixed zone.

• Watch the players warm up right from the edge of the ptich and sip a glass of champagne in one of the VIP rooms ahead of kick off.
• Enjoy a choice match seat right near the bench (lower western stand) or watch the match in a VIP room and enjoy some haute cuisine to really make a night of it!

• Park your car right near your seat (Parking P5)

• Vivez intensément un match au stade émotions & frissons garantis !

• Parlez-en autour de vous et revenez vite au Groupama Stadium
...

The VIP experiences are availbable to fans, families & friends on match nights at the Groupama Stadium. Get more information about the VIP experiences at the Groupama Stadium site.


[Note, there is no VIP experience for Champions League matches]

...
"Something extraordinary" [ Matthieu ]

The excitement of the event, the atmosphere in the stadium, the camaraderie in the stands: I really recommend the VIP Experiences at the Groupama Stadium: a guaranteed thrill!
"Wonderful" [Claire]
A wonderful stadium. What to say? A real monument. A great atmosphere! A really big 800m2 shop. A really good vibe… It was really easy to get here by tram. The stadium's something to experience even if you don't love football or support OL!