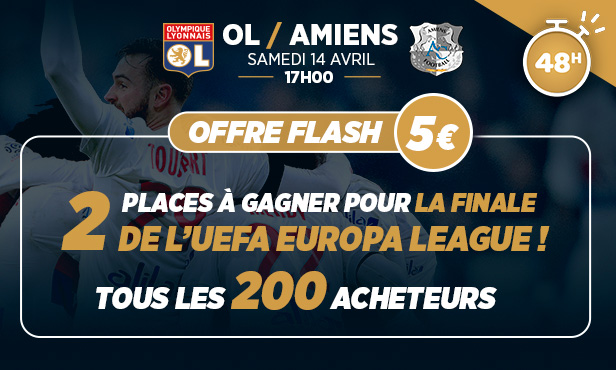 Buy tickets in the upper Tribune EST stand for OL-AMIENS at just 5€ each and enter for a chance to win tickets for the Europa League final at Groupama Stadium.
2 EUROPA LEAGUE FINAL TICKETS UP FOR GRABS
All tickets purchased using the "SPE - Offer - Mobile Tickets" rate for the upper Tribune EST stand will allow you to automatically participate in the contest.
The contest is only valid for tickets purchased for the Upper Tribune EST stand and is subject to availability. The flash sale end Thursday, April 5th at 10 am French time.
---
Come watch OL - Amiens on Saturday, April 14 at 17:00!
By taking advantage of this unique offer, your tickets can only be downloaded on your smartphone on the day of the match. When making your purchase, please use the phone number that will allow you to download your tickets.

Please follow these instructions when buying your tickets:
1. Select the "SPE - Offer - Mobile Tickets" ("SPE – Offre - Billets mobiles") option
2. Enter your cell phone number **. If you already have an account, check on the client section with the appropriate mobile number.
3. Once the purchase is finalized, you will receive a document (in French) explaining what steps to follow next.
4. You will receive an SMS to download the application and get your tickets.
5. On match day, download your ticket(s) and present them at the gate
*Offer is subject to availability
**If you make a mistake, you will have no way of getting your ticket(s) back.
<< Get more information in the events page at groupama-stadium.com >>