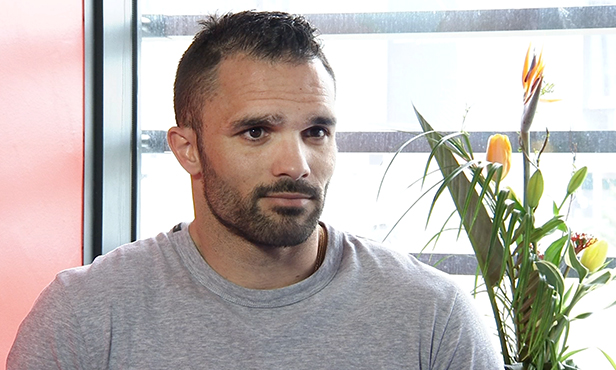 The defender spoke to La Tribune to preview Sunday's match vs. Toulouse and the final stretch of the season for a Lyon side that's fighting for a spot in Champions League.
How did the international break go?
It went very well. We had time to savor the three points won against Marseille. We spent the past week working ahead of the important last matches of the season that await us.

Could the break be an unintentional momentum killer after the dramatic win vs. Marseille ?
No, I don't think so. We needed to rest. The only way we can get a streak going is by being at 100%, putting the same ingredients and playing with the same intensity that we did against Marseille. During the break, we tried to clear our heads because we gave a lot mentally, morally and physically. It came at the perfect time. We can start from scratch and come back full of energy.

What do you remember from the win against Marseille?
It did us a lot of good. It was needed. We had no other choice, we couldn't afford any other result. Now, we must use it to build something together, otherwise it will have been useless. We must build on this beautiful performance.


Do you still think second place - and a direct Champions League berth - is within reach?
Mathematically, yes. But, to be honest, I think Monaco are too far ahead. Too many points have been dropped for us to hope for that. We must win all our remaining matches. It's possible, but it's not only up to us at this point. We'd also need some missteps from Monaco and, in my opinion, it's unlikely that will happen.

How do you explain this ability to perform against the big clubs and, conversely, the difficulties you've had playing smaller teams?
Against so-called weaker opponents, we are in control and then suddenly we stop playing. As soon as we stop playing together as a group, it becomes difficult. It doesn't matter who we play against. That's why we've had problems against these teams. We have to fix that.

What's the reason for these difficulties? Is the team too relaxed, is it a concentration or motivation problem?
It's probably a little bit of everything ... the youth of the group also has something to do with it. We, the older players, need to mentor the young guys as best as possible. This team is a bit inexperienced, it needs to learn. But, as the coach says, in football we have to learn fast because there are results, goals that need to be reached quickly.
We've dropped too many points to hope for 2nd place
Let's talk about the remaining fixtures this season. Most of your opponents will be fighting relegation...
It's always difficult to face teams that are fighting for survival. They're not going to let us control the ball or score easily. It will be tough, perhaps more than usual. If we aren't fully engaged, we may suffer more mishaps.

How is OL feeling ahead of hosting Toulouse, a team that has had serious difficulties against bigger clubs?
Honestly, I don't know their stats against the big teams. On the other hand, I saw their match against Marseille (a 2-1 loss on March 11). They didn't deserve to lose and actually could've won. They played a great match... I saw a very good team, they pleasantly surprised me.

What type of match are you expecting?
I don't think that Toulouse are coming to Groupama Stadium to play football. I think they will wait in their half of the pitch. It will be up to us to attack, while being solid defensively. We need to be patient and not concede too many chances, that's the best way to stay calm.


Speaking of defense, can you tell us about your partnership with Marcelo and his contribution to the team?
By his stature alone, he is an imposing figure on the pitch... We need a guy like him in the group. I think we are getting along rather well. The coach rotates from time to time because we need everyone. He also gets along very well with Mouctar (Diakhaby). He is very attentive and is progressing well. He's a good guy, he's a quality player.

This season you've converted to a central defender. Do you feel more comfortable in this position than on the flank?
During my last year at Marseille, Marcelo Bielsa (coach at the time, 2014-2015 season) used me in central defense. I really liked playing in that position. Coming to OL, I knew that I was going to be used as a left-back. But at the beginning of the season, the coach told me that he saw me more in the middle than on the flanks. It suited me perfectly.