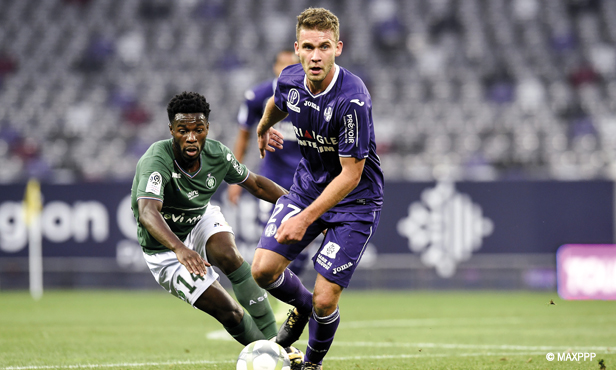 The Toulouse midfielder speaks about his team's struggles to avoid relegation ahead of Sunday's clash with Lyon at Groupama Stadium.
Alexis, did the international break come at a good time given the team's complicated situation?
Yes, it allowed us to recharge our batteries. We are having a hard time... we're not taking enough points. But in terms of matches, we have been doing better of late. Our performances are getting better.

How do you explain the difficulties the club has been going through, stuck in 17th place and fighting to avoid relegation?
We had a rough start to the season, which put us on the wrong path. Once that happens, it's hard to get back on track. Unfortunately, that was the case for us. But we aren't finished yet. The end of season is extremely important for us, we must continue to fight on.

What's it like playing to avoid relegation and how has it affected the team?
It's always more complicated when you're playing to stay alive. You have to be strong mentally. It has happened several times in recent seasons, but we didn't learn from our mistakes. We see it now. But we have the tools and we have experience. We must face it head on and take the maximum points, even if it will be a tough fight until the end.
Looking at your results, it seems as if the team has yet to find its rhythm…
I can't explain it. We have had a few streaks here and there, but not enough for my taste. We haven't been consistent enough and over time it has hurt us... Two years ago, we managed to stay alive until the very end of the championship. We are always in the same situation. It's our fault and we have to look at ourselves in the mirror. We must take charge and take care of our responsibilities. We're in a bit of mess despite the quality of our squad. Obviously, it wasn't in our plans to avoid relegation, it's extremely disappointing. But we can't go back...

It's always more complicated when you're playing to stay alive.

What were the consequences of a making a coaching change mid-season?
It's always a delicate issue. Coach Dupraz was doing a good job, but he left and it was his choice. The new staff is doing a very good job. We have nothing to criticize about them. It's really our fault, the players. It's up to us to fix this.

Toulouse will play their fourth match in less than a month against a top 4 team. How do you approach these types of matches?
We do pretty well against the big teams. We mainly struggle against direct opponents. Like Strasbourg last weekend, where we had to win but didn't get the job done ... We aren't focused enough. We seem to raise our level against the big clubs, which is how we should play all the time. That said, motivation and concentration are always there. It's not done on purpose, but something happens when we face our direct opponents. But against teams like PSG, ASM, OM or OL, we have nothing to lose. We aren't favorites and it takes a lot pressure off of us, it frees us.

What's the team's mindset ahead of Sunday's trip to Lyon?
It will be difficult against OL, as usual. But we will go to Lyon to get a good result. We really want to do it and we are convinced that we can do something positive there, even if we haven't taken many points against the big clubs (only one point seven games, against Monaco (3- 3) on February 24th). Lyon have played many games this season and they may be a bit tired this time of year. Players like Lucas (Tousart) and Tanguy (Ndombele), whom I know from the France U21 team, have played a lot. We need to push them to their limit.

What do you think of OL's season?
They're always a tough team to play. OL have a very specific style of play, very technical players, who handle the ball well. It's a team that plays well and has had a good season, despite everything that's been said. OL have the same problem as us: the squad is young and they haven't been consistent enough this season.