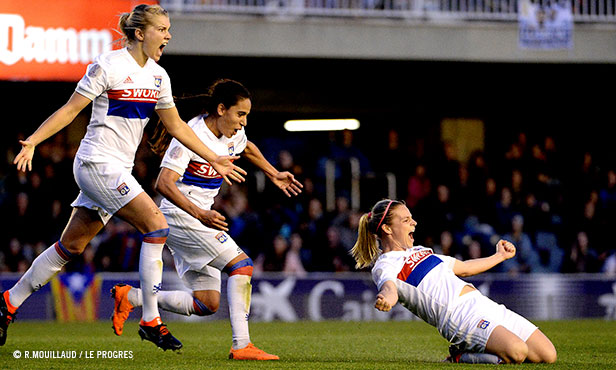 Eugénie Le Sommer scored the game's lone goal as Lyon topped Barcelona 1-0 (3-1 aggregate) Wednesday night at the Mini Estadi to set up a Champions League semifinal date with Manchester City.
. AT A GLANCE .
6' Panos makes the timely save to deny Le Sommer.
20' Marozsan fires just wide with a powerful left-footed attempt
24' Le Sommer's effort is barely off frame.
38' Renard's header off a Majri free kick forces the save from Panos.
39' Le Sommer sets up Hegerberg, who can't beat Panos in the 1v1 with Barça's keeper.
61' Marozsan whips in a corner that Le Sommer heads in for the game-winner. 0-1.
---
. THE MATCH.
Winners by a narrow 2-1 margin in last week's first leg at Groupama Stadium, Lyon knew their mission was far from complete Wednesday night at the Mini Estadi. That's why Reynald Pedros' players wasted little time in bringing their game right at Barcelona, who were on the back foot from the get-go. With Ada Hegerberg and Eugenie Le Sommer leading the charge, OL pressured early on in search of a goal that would all end the series in their favor.


The chances came fast and quick for the visitors, who once again were frustrated by goalkeeper Sandra Paños, Barcelona's best player in the first leg who continued her fine form by making key saves in consecutive minutes against Renard (38') Hegerberg (39') just before the break. OL. But there would be no denying Le Sommer, who broke free of her marker inside the box and headed Marozsan's corner past the goal line - even with Putellas defending on the line (61 ', 0- 1). Goal number 230 for the French striker with the team and one that was worth a spot in the Champions League semifinals. Now Manchester City awaits in the next round, with the first leg to be held in England on April 21st or 22nd, with the return leg to be played on April 28th or 29th at Groupama Stadium.


. THE STAT .
9
OL's women's team passed the Champions League quarterfinals stage for the ninth time in club history. Lyon have never lost in this round of the event - a stat that reflects the size and stature of the women's team, which will now look to beat Manchester City and move one step closer to a fifth European title.
Expert eye
Coralie Ducher :
« It's well-deserved qualification. The girls played a very good match, preventing Barça from being dangerous. Barcelona decided to wait for OL, a well-known tactic that didn't work this time around either. Tonight's goal validates Lyon's superiority and shows that they were by far the better team over both legs. »
---
...

. FEUILLE DE MATCH .

Au Mini Estadi de Barcelone (ESP).

UWCL (1/4 finale retour) : FC Barcelone - OL Féminin : 0-1 (0-0)

Arbitre : Sandra Bastos (POR).

But : Le Sommer (61') pour l'OL Féminin.

FC Barcelone : Panos — Torrejón, León, Serrano — Losada (cap. Caldentey, 72), Bussaglia, Guijarro, Putellas, Andonova (Latorre, 72') —Martens, Duggan. Entr. : Fran Sánchez.

OL Féminin : Bouhaddi — Bronze, Mbock, Renard (cap.), Bacha (van de Sanden, 84') — Cascarino (Kumagai, 76'), Henry, Marozsan, Majri - Le Sommer, Hegerberg. Entr. : Reynald Pedros.


...