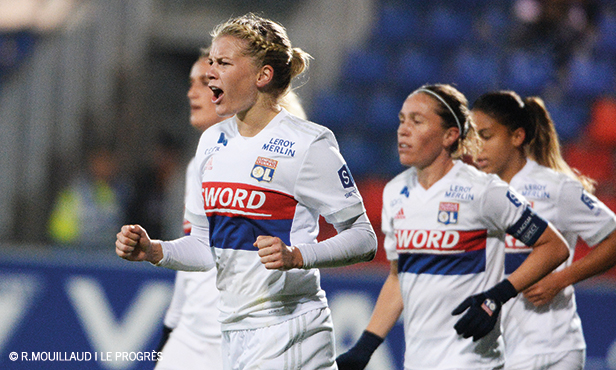 Reynald Pedros' squad hosts the formidable Spanish side Thursday night at Groupama Stadium in the quarterfinal first leg.
After two fairly easy fixtures against Medyk Konin (14-0 aggregate) and Biik Kazygurt (16-0 aggregate), Lyon will get down to business in the UEFA Women's Champions League quarterfinals against FC Barcelona. Four-time champion OL (2011, 2012, 2016, 2017) face the legendary Catalan club that has growing ambitions for its women's team.
Domestic champions for the first time in 2012, Barça are now looking to take their European game to the next level. The Fran Sanchez-coached team, which fell in the semifinals against PSG last season (1-3, 0-2), made plenty of offseason moves to bolster its squad. Primarily composed of local talent, Barcelona managed to sign French and former OL midfielder Élise Bussaglia, English international striker Toni Duggan and Dutch star Lieke Martens, voted UEFA's top player in 2017 after winning the Euros with the Netherlands last summer.
While perfect in Europe so far this season, thanks to convincing wins over Avaldsness and Gintra, domestically Barça are in a dogfight with Atlético de Madrid. Draws conceded to Huelva (1-1), Madrid (1-1) and Real Sociedad (0-0), as well as losses suffered in Granadilla (0-1) and against Athletic Bilbao (0-1) have done little to help their chances of winning the league this season. They also be without the injured Vicky Losada
As for Lyon, a 12th consecutive D1 Feminine title is all but assured and head coach Reynald Pedros will have a full squad at his disposal. Captain Wendie Renard and Ada Hegerberg have recovered from their respective injuries in time for these crucial matches. Even Griedge Mbock and Kadeisha Buchanan, absent against Lille last weekend, are also available. A fifth European championship is well within reach, but to reach Kiev for the May 24th final, Lyon must pass their first true test of the tournament: FC Barcelona


...

. OL SQUAD.

Goalies : Bouhaddi, Peyraud-Magnin

Defenders : Bacha, Bronze, Buchanan, Mbock, Renard

Midfielders : Abily, Brian, Hamraoui, Henry, Kumagai, Majri, Marozsan

Forwards : Cascarino, Hegerberg, Le Sommer, van de Sanden