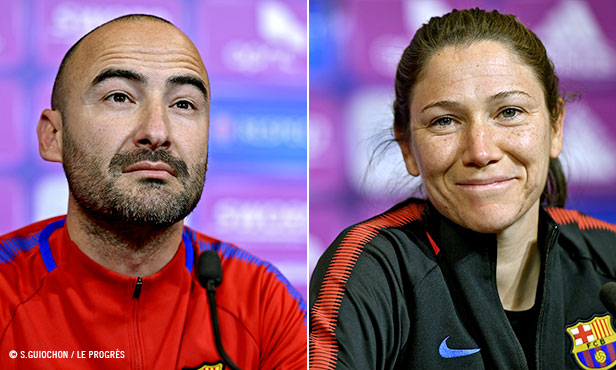 L'entraîneur espagnol Fran Sánchez et sa joueuse française Élise Bussaglia se sont présentés en salle de presse pour répondre aux questions des journalistes français et étrangers à la veille du ¼ de finale aller.
Fran Sánchez
We know they're the best team in Europe. We are not afraid even though we respect them. We will do the best we can. We will adapt but not change our style even if the level of play will be higher than usual.
Élise Bussaglia
The goal of the club is to grow year after year and go as far as possible. We will try to give the best possible performance. Playing the quarterfinal is very exciting. We drew them twice before but tomorrow is a different competition. OL improves every year.
...

. FC Barcelone train at Groupama Stadium .

A few minutes after Wednesday's press conference, FC Barcelona held a pre-match training session at Groupama Stadium, site of tomorrow's quarterfinal first leg. With the media watching the first 15 minutes of practice, head coach Fran Sánchez put her players through the paces to work out any final kinks ahead Round 1 vs. Lyon.

...
---
[???? CONVOCATÒRIA]
⚽ @OL - @FCBfemeni
???????? #ForçaBarça #UWCL

???? @movistarlikes #BarçaMovistar pic.twitter.com/jz3UK2U1i8

— FCB Femení (@FCBfemeni) 21 mars 2018