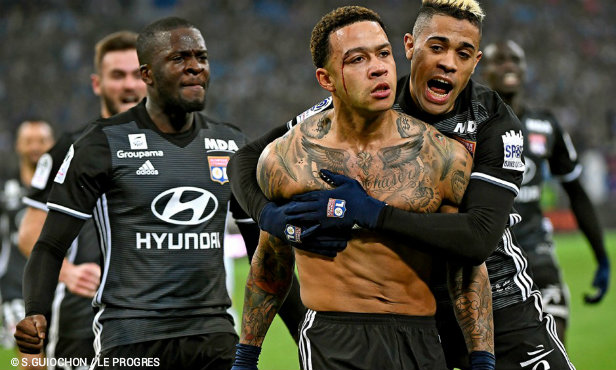 Sunday's dramatic, 3-2 win at Marseille came just before the international break - a period in which Lyon can get some much-needed rest and look back at a beginning of a year that's been full of hardships and lessons learned.
A euphoric start

Everything started off great. OL picked up in 2018 where they left off in late 2017, when they booked their spot in the Europa League Round of 32 and headed into the winter break trailing only PSG in the Ligue 1 Conforama standings. A nearly two-week break that boosted team morale ahead of the January fixtures that included an epic 2-1 win over Paris Saint-Germain, followed by a 3-2 defeat of Monaco in the Coupe de France. Two huge results that did little to foreshadow the beginning of trouble.

Unexpected heartbreak
Did Bruno Genesio's players fail to keep their feet on the ground after a scintillating start to the year? Whatever the cause may be, the quality of their performances suddenly began to deteriorate and OL soon squandered their narrow lead over Monaco and Marseille in Ligue 1, falling from 2nd to 4th in the standings - 9 points behind ASM and 5 behind OM. The specific cause was a six-game league winless streak that was made that much worse by losing to Caen (1-0) in the Coupe de France quarterfinal. The biggest blow, however, was their bowing out of the Europa League in the Round of 16 against CSKA Moscow (0-1 and 2-3).

On the path to redemption
In just a few weeks, Lyon's hopes and dreams of cup glory (both European and domestic) vanished into thin air. Huge disappointments that, it seems, finally caused a reaction in the dressing room. With everything on the line, Les Gones pulled off a gutsy, last-minute 3-2 win at Marseille that could inject life into their season. Will it be a case of too little, too late? Who knows what the future holds, but what is certain is OL's desire to end the season on a high note and, most importantly, secure their place in the next Champions League. It won't be easy, but it will definitely be exciting.