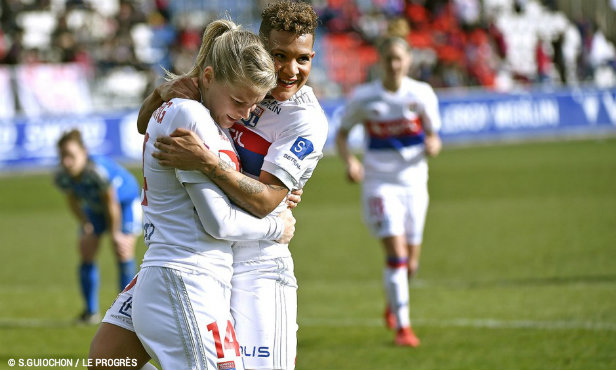 Lyon came back swinging from the international break, crushing Soyaux in their return to Division 1 Féminine action.
THE MATCH

OL's women's team showed no signs of rust in their return from the international break and picked up right off where they left off in D1 Féminine, cruising to a 5-0 win Soyaux Sunday at the Groupama OL Training Center.
Despite having little time to prepare for the match, the Olympians dominated the proceedings from the get-go and received their reward shortly before the half-hour mark, when Saki Kumagai opened the score from the penalty spot (29 ', 1-0).
#OLFSOY Ouverture du score pour nos Lyonnaises sur penalty. Saki Kumagai transforme. 1-0 après 30 minutes de jeu. ???????? pic.twitter.com/8QGZinB7HF

— Olympique Lyonnais (@OL) 11 mars 2018
Lyon broke the game open in the second half, with Amel Majri firing home from close range shortly after the break (50 ', 2-0) before scoring directly off a corner kick for the brace (54', 3 -0) four minutes later. Even with the win all but assured, the home side kept the pressure on and got a fourth goal when Ada Hegerberg took advantage of a poorly-cleared ball from Munich (59', 4-0) to score her 22nd goal in D1. The Norwegian would give way to Le Sommer, who provided the assist for Camille Abily's closer (71 ', 5-0).
OL did their part against Soyaux and put added pressure on Paris Saint-Germain, who will play Monday with an eight-point deficit behind Lyon.

Reynald Pedros :

« I am satisfied with the victory and the team's attitude. It was a difficult match because the girls were coming back from national team duty. We had a first period with little rhythm, but improved significantly in the second half. This wasn't our best match of the season, we were tired but were able to remain focused. Wendie and Ada came back from injury and it went well, they built up their confidence. »
...

. BOXSCORE.

Groupama OL Training Center

D1 Féminine (Week 16) : OL Féminin - Soyaux 5-0 (1-0)

Referee: Maika Vanderstichel. Attendance: 500 approx.

Goals: Kumagai (penalty 29'), Majri (50' and 54'), Hegerberg (58') and Abily (71') for OL.

Bookings: Bronze (90') for OL.



OL women: Bouhaddi - Bronze, Buchanan, Renard (cap. Mbock, 60'), Majri - Brian, Kumagai, Marozsan (Abily, 64') - van de Sanden, Hegerberg (Le Sommer, 59'), Cascarino. Coach: Reynald Pedros.

Soyaux: Munich – Deschamps, Verges Prats, Rouge, Awona, Boudaud (Canon, 65') – Dumont, Tandia (cap.), Bourgouin, Fleury (Clerac, 63') - Babinga (Tolmais, 62'). Coach: Sébastien Joseph.

...