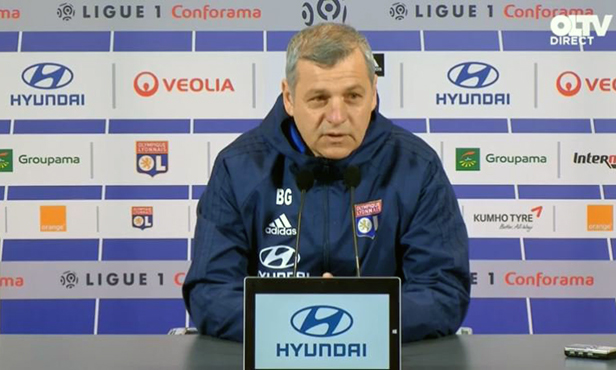 The OL coach faced the media to discuss the Europa League elimination and Sunday's crucial match at Marseille.
The Europa League elimination

« I watched the match again. I feel the same as I did last night, nothing has changed. I feel that were weren't organized and disciplined enough. I am Lyonnais. I signed here when I was six years old. When things are going well, we are proud. When things go wrong ... I'm not afraid to say that I am ashamed of what we did yesterday... I didn't expect it. Sometimes there are warning signs, but there was nothing yesterday. I felt that the players were involved, very focused. I was very surprised by the performance that they gave.

His meeting with the president

These are conversations that happen frequently. I won't say what was discussed. I am very lucky to have a president like him. He has an analysis and a tenacity, a way of saying things that helps. The coach-president relationship is very important. This relationship is very strong and will remain so no matter what.

His state of mind

Resigning? That would be running away. It would be abandoning the ship, it would be too easy. I wouldn't do anything like that, like blaming my players. I'm not on social media. I'm not saying that I'm impervious to criticism. Some criticism can be constructive. It's the violence of the words that's troubling. You have to be clear-headed, on the offensive because it's a tough job, you can't do this job if you're affected by the slightest of criticisms. The institution must come above all, it is the most important thing for me. I don't think about my personal situation. Whatever happens at the end of the season will happen, and I will accept it. I'll have no resentment. I'd have to be dreaming to say that as a coach I'm not in any danger.

His exchange with Fernando Marçal

He apologized publicly and in front of the group. It happens in a lot of clubs. I can understand him being upset, but I think that we must respect the club. There are many forms of discipline. It's up to us to make the right choice.
Too much selfishness?

The players are capable of playing as a team. They have shown it this season. That means that we can do it again. I hope that yesterday's match will serve as a lesson for the future. I make the team and define the game plan. I have my share of responsibility. I work with them and the staff to fix that ... Sometimes they don't see [their teammates]. Sometimes they make another choice. I don't think they purposefully ignore their teammates.
Sunday's match vs. Marseille

Is it our last chance? You could say that. But if we get a positive result, everything can be brought back to life ... Marseille have a great dynamic. They are very good. These are very exciting matches. There is a lot of atmosphere, pressure. We know that they are a strong opponent, but we also know that we have the means to go beyond ourselves, to transcend a match. I know that my team often responds in these kinds of situations ... The goals are always high when you're at OL... We still have one left and we must put all our energy into achieving it. We have the chance to play a big match on Sunday. Great players and teams are strong in adversity. This is the speech I want to give the players. Anything is possible ... Rafael will be operational for this match."»