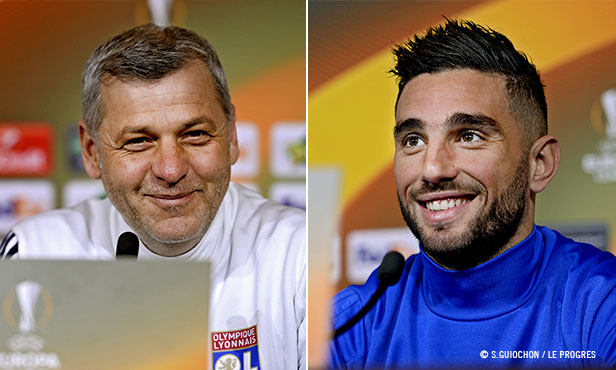 Lyon's coach and midfielder Jordan Ferri hosted a press conference to preview tomorrow's Europa League Round of 16 return leg vs. CSKA Moscow at Groupama Stadium.
Bruno Genesio
State of the squad
« [The procedure] went well for Nabil Fekir. He must now continue his rehab to return in three to four weeks. Rafael felt pain in his thigh. We won't take any chances with him tomorrow. The rest of the group is operational. The group has responded well mentally with two straight wins… physically we should be good because we had four days to recover.
CSKA and OM: two decisive matches
It's important to manage both games independently of each other. We have to focus on tomorrow, that's the most important thing for us right now. The danger would be to already start thinking about Marseille. We are all aware of the importance of these two matches. I saw that they (CSKA) changed their system in the league with a 4-3-3. We are prepared for that. It's only halftime, nothing is done. I repeated it, and will continue repeating it to the group… We must not think that the hardest part is done. We're taking this game very, very seriously. CKSA changed their system in the league over the weekend with a 4-3-3. We are prepared for that.
Offensive difficulties
It's difficult to work on the offensive side of things with the long sequence of matches that we've had. We mainly rely on videos. We're lacking a bit of confidence in this department. We've rectified some of the mistakes we made against Lille.
Anthony Lopes as captain
Everyone has their way of being. Nabil took on this role very well and Antho does it his own way. He stays focused on his game while relaying messages to his teammates.
Jordan Ferri
« A one-goal lead isn't much. For us it's a 0-0 game and we're going for the win. Do not take this game lightly. The squad is young but there are experienced players in the locker room. Our role is to show that this match is important. CSKA is an interesting team that wanted to play good football despite the difficult pitch conditions. They have good players. We played a tough match in the first leg… It's important for us, for our confidence. We are on the right track, we try to learn from our mistakes. These two victories did us good and reassured us. We are ready to play these very important two matches. We will have time to think about the Marseille match. I prefer to stay focused on tomorrow… The Europa League is a very important competition for the club, for the fans. We also know that the final is here. There is a lot of motivation to go far. »