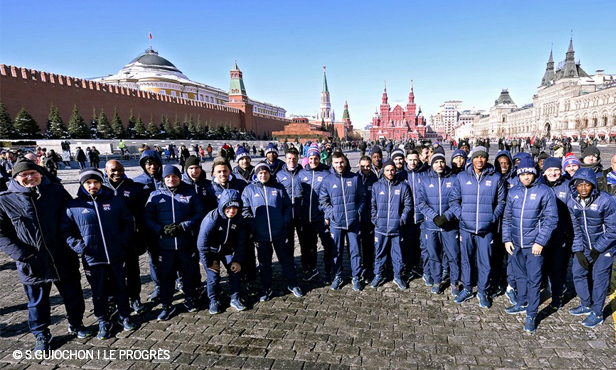 The Lyon delegation performed its traditional pre-match stroll through the streets of the Russian capital to breathe in the (very) cool air of Moscow and take in the sights of this historic city - a familiar location for the likes of Grégory Coupet, Claudio Caçapa and Memphis.
No trip to Moscow would be complete without a visit to the mythical Red Square, where the Lyon players turned into regular, everyday tourists, taking in the sights and documenting their visit with obligatory photos. After an early morning video session at the team hotel, Bruno Genesio's men braved the cold - made somewhat easier because of the sunny conditions - to cross the majestic Red Square, surrounded by the imposing Kremlin and the equally famous Saint-Basil's Cathedral.
Marcelo
« We're done already? The ride was too short, it was really very beautiful. (smiles) »
Lucas Tousart
« It was very nice. I had never been to Moscow so I was able to discover this beautiful city in the cold. There are very nice monuments. I had already seen them in photos or postcards, but it's always better to see them in real life. »
The players didn't go unnoticed by locals or fellow tourists, so there was also plenty of selfies and autographs to go around. Memphis even received a small gift from admirer: a drawing of the Dutchman in the colors of OL, which made a lot of people smile when he came to Moscow with Manchester United not long ago. He's not the only one. Coaching staff members Grégory Coupet and Claudio Caçapa had been in 2001 to face Spartak, the city's largest club. Former player Bernard Lacombe is a frequent visitor to the Russian capital, and all three shared memories of this special city
A pre-match stroll on the streets of Moscow #CSKAOL pic.twitter.com/W7oh3QE3Fs

— OL English (@OL_English) 8 mars 2018
Grégory Coupet
The conditions were really tough. We played in a freezer. It was - 17 degrees (celsius) if I remember correctly. I remember the pitch was a catastrophe. On TV it looked nice and green. But for the players, it was actually a dirt ground with green wooden chips. It was a field, but it was hellish. You definitely are left with memories when you play on a pitch like that. We play football for these kinds of experiences.
Claudio Caçapa
I mostly remember the awful pitch. I think I played on the left side that match. I also have memories of our walk in the Red Square.
Bernard Lacombe
The state of the pitch? it looked more like a beach than a football field. The conditions are always rough here. These are weird games to play. This is the 17th time I've been to Russia, usually here in Moscow. The first time was in 1973 for a World Cup qualifier. We played in Lenin Stadium in front of 100,000 spectators. We lost 2-0. I also played with Bordeaux... We had the chance to face Lev Yachine, the only goalkeeper to win the Ballon d'Or. I also came with OL a few years ago. It's a beautiful city, even if it's a bit tricky at the moment. Winter here is really something.