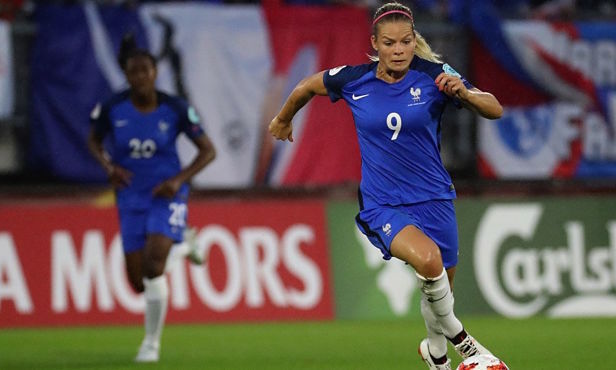 The striker is one of several OL women's team players participating with their respective national teams at the SheBelieves Cup and the Algarve Cup.
Eugénie Le Sommer was the standout star for France on Sunday by scoring her team's only goal in a 1-1 draw with host nation United States in MatchDay 2 of the SheBelievesCup. It was her 65th international goal, which puts her 16 behind all-time leading Marinette Pichon (81 goals). OL teammates Sarah Bouhaddi, Griddle Mbock Bathy, Amel Majri and Amandine Henry played the whole match, as did Morgan Brian on the American side. In the day's other match, Dzsenifer Marozsan and Lucy Bronze also played the full 90 minutes as their respective nations, Germany and England, shared the spoils in a 2-2 draw.
Earlier on Sunday, the France B team, which included Delphine Cascarino and Pauline Peyraud-Magnin, beat Romania 3-0 in the Turkish Women's Cup with a goal from Lyon's young striker. .
Finally on Saturday, the French U20 team, featuring Selma Bacha and Emelyne Laurent, fell 1-0 to the United States in a friendly in Vannes. Both young Lyon players went the full 90 minutes.

National team schedules
Wednesday, February 28

Turkish Women's Cup: France B - Kosovo: 6-0 (goal by Cascarino)
Algarve Cup: Japan - Holland: 2-6 (goal by van de Sanden)
Algarev Cup: Canada - Sweden: 1-3
---
Thursday, March 1
SheBelieves Cup: France - England: 1-4

---
Friday, March 2
SheBelieves Cup : USA - Germany: 1-0
Turkish Women's Cup : France B - Kazakhstan: 6-0
Algarve Cup: Japan - Iceland: 2-1
Algarve Cup: Denmark - Holland: 2-3
Algarve Cup: Russia - Canada: 0-1
---
Saturday, March 3
Friendly: France U20 - USA: 0-1
---
Sunday, March 4

Friendly: France B - Romania: 3-0 (goal by Cascarino)
SheBelieves Cup: USA - France: 1-1 (goal by Le Sommer)
SheBelieves Cup: Germany - England: 2-2
---
Monday, March 5
Algarve Cup: South Korea- Canada: 0-3
Algarve Cup: Iceland - Holland: 0-0
Algarve Cup: Japan - Denmark: 2-0
---
Tuesday, March 6
Turkish Women's Cup Final: Mexico - France B (13h30)
Friendly: France U20 - USA (15h00)
---
Wednesday, March 7
5th place Algarve Cup: Canada - Japan (12h00)
Algarve Cup Final: Holland - Suède (19h30)

SheBelieves Cup: France - Germany (22h00)
---
Thursday, March 8
SheBelieves Cup: USA - England (01h00)