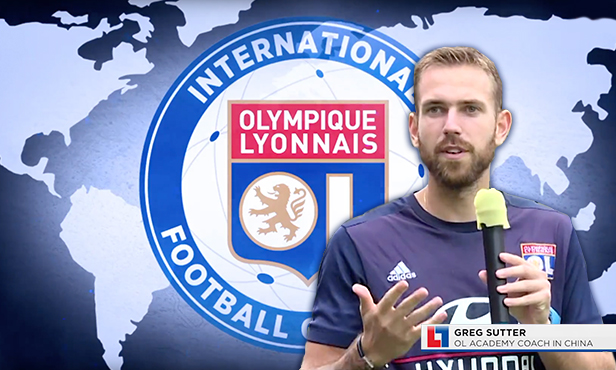 Every month, OLWEB and OLTV take you to China, South Korea, Vietnam and other locations such as Lebanon and Senegal to keep you up to date on the club's international partners.
Close-up: Greg Sutter's new life in China
Since August 2017, Greg Sutter, a 27-year-old Swiss educator, has been representing OL in the Chinese cities of Beijing, Chongqing and Shanghai. During the first part of the season, he worked with the Chongqing National Education Department to train gym teachers in the practice of football, which in recent years has become compulsory in schools.

Greg Sutter also works with the Beijing Olympic Club, one of the oldest in the city. He created an elite group by putting together the best U9 to U12 players, focusing mostly on the generation of players born between 2008 and 2009.
---
VIP guest: French consul pays the OL Academy a visit in Vietnam
Bravo à l'Olympique Lyonnais @OL et au coach @JulienNEGRI pour cette belle coopération pour former dans la durée les jeunes de l'Académie de football de Hô Chi Minh ville. Merci de votre accueil. pic.twitter.com/bwYUyggn4W

— Vincent Floreani (@VincentFloreani) 6 février 2018
Olympique Lyonnais' work with the Ho Chi Minh Football Federation hasn't gone unnoticed by local authorities. In February, French consul Vincent Floreani personally showed up to get a first-hand look at the progress being made. "He appreciated both the educational and sporting aspects," said Julien Negri, OL's envoy to the Ho Chi Minh Football Federation. "This project allows players to become high-level athletes, but also instills values ​​and offers them a valuable eduction as a back-up plan in case their sporting careers don't work out. The consul also stressed that this partnership is perfectly in line with his desire to develop relations between France and Vietnam."»
---
The performance: Jeonbuk Hyundai Motors FC gets off to a strong start
Lyon's South Korean partner club kicked off its Asian Champions League campaign with a pair of solid victories: a 3-2 win over Japan's Kashiwa Reysol and a 6-0 drubbing of Hong Kong's Kitchee SC. Nine goals in two games, including this gem of a game-winner from Dong Gook Lee against Kashiwa.
---
International community: episode 2