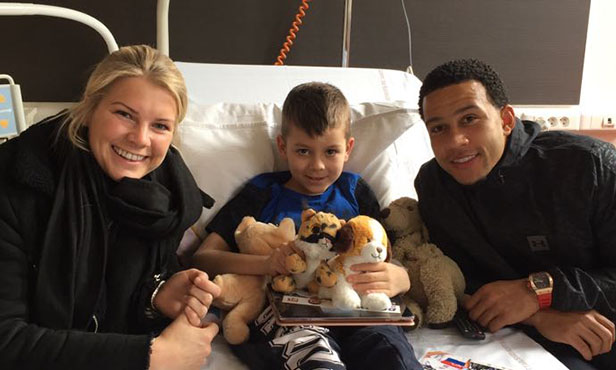 The Olympique Lyonnais Foundation have officially launched their first call for projects exclusively for club supporters. The projects will have a budget of 200,000 euros provided by both the club and the players to support more than 40 fan-club projects of various types. We interviewed the two OL captains about their involvement.
On Sunday we'll be celebrating the tenth anniversary of the OL Foundation, what does it mean for you?

Nabil Fekir : It's great, it shows that the club has been supporting important causes for a long time. When I went to the Centre Léon Bérard, I met sick children and their parents and was touched by their courage. There are a lot of people who don't have an easy life and it's part of our role to spend time with them and to try to help them along.
Wendie Renard : I've taken part in quite a few initiatives with the foundation, mostly at Sport in the City or in schools where I've gone and met the kids. Thanks to the foundation's efforts, we're able to use our image to help others, to teach values or to lend encouragement.
Pouvez-vous nous parler de cet appel à projets, pourquoi vos équipes respectives se sont elles mobilisées ?

Nabil Fekir :
Cet appel à projets, c'est une façon pour le club et pour nous de remercier nos supporters : ils sont derrière nous à chaque match, ils nous encouragent et c'est aussi grâce à eux que l'équipe arrive à se surpasser.
C'est pour ça que tous les joueurs ont voulu soutenir l'appel à projets : non seulement on va aider des causes importantes mais en plus on va montrer à nos supporters que nous aussi on est là pour eux et qu'on est fiers de leurs engagements bénévoles. J'espère qu'ils seront nombreux à se mobiliser pour présenter leurs associations.
Wendie Renard : This is a good chance to gather the OL family around the values of solidarity and commitment, and to do some good for our supporters' fan-clubs. I've spoken to the whole team about it and it's a great way to celebrate the foundation's tenth anniversary.

...

. Comment faire pour candidater ? .

Pour célébrer ses 10 ans, OL Fondation lance pour la première fois en Europe, un appel à projets destiné exclusivement aux supporters du club. Les supporters et membres du programme MYOL auront ainsi la possibilité de présenter les projets d'associations qui leur tiennent à cœur et qu'ils souhaitent voir soutenir. L'appel à candidatures se terminera le 31 décembre 2017 sur olweb.fr.

...