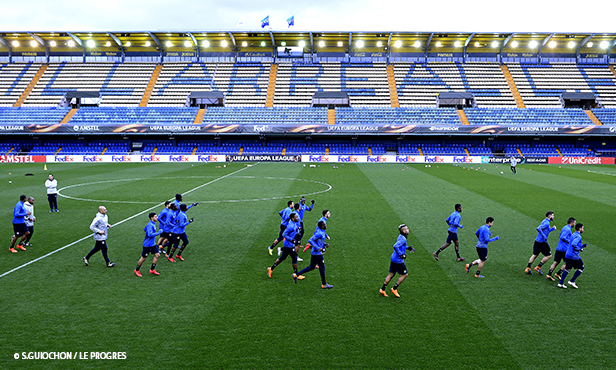 On the eve of their decisive Europa League Round-of-32 encounter, Bruno Genesio's men put in one final training session.
While not the most impressive stage OL have performed in over 249 European cup outings, the Estadio de la Ceramica has its charm. Likened to Argentina's mythical "Bombonera" by OLTV's Jeremy Berthod, Villarreal's stadium is more akin to the Stade de Masson, according to Bernard Lacombe, advisor to club president Jean-Michel Aulas and a former player himself who savors these kinds of games: « The scent of football is in the air in this stadium, with its unique stands. It could be a complicated match, but I trust the players and Bruno. »

The OL squad also seemed to appreciate venue's charms as the players took the pitch around 18:00 for their final pre-match training session. With a capacity of just under 25,000, the stadium formerly known as "Campo del Villarreal" and 'El Madrigal" opened its doors in 1923, undergoing several renovations over the years - in particular in 2005, during the team's memorable Champions League run.
Final training session before #VILOL ???????? pic.twitter.com/GCVGR1QuJB

— OL English (@OL_English) 21 février 2018
« It's a small stadium, » explained a local journalist as Lyon began warming up under the watchful eye of of physical trainer Antonin Da Fonseca. "But the atmosphere is always good and the public is loyal, always standing behind the team. »

The fifteen minutes open to the press allowed those present one last chance to see Bruno Genesio's 21 men at work. The goalkeepers trained closely with Greg Coupet, who played for Atletico in 2008-09. Mariano was, understandably, one of the most closely-watched players on the pitch. The Spanish-born forward will make his first appearance at Villarreal, having missed the trip to the Estadio de la Ceramica last season with Real Madrid. On the other hand, fellow Spaniard Cheikh Diop is familiar with the surroundings, having entered as a second-half substitute during a 5-0 loss with Celta Vigo in October 2016. « It's true that it is not a good memory, » admits the young midfielder. « But it's a good place to play football. Last year, I lost a lot in La Liga, but that's another story. »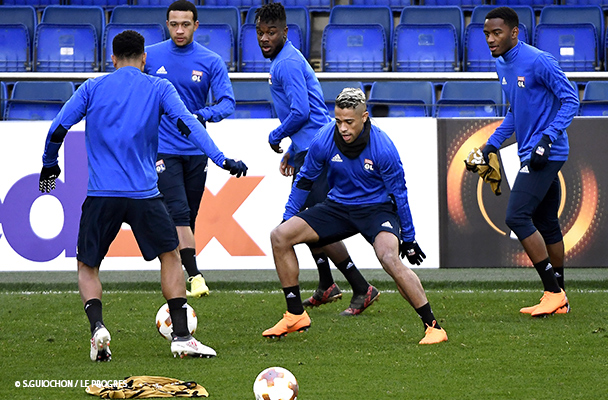 Another tidbit: Jean-Michel Aulas, who missed the trip to Spain this time around after undergoing knee surgery, has visited the venue in two previous occasions. First, to watch Valencia play in person before a Champions League match with Lyon and later, to attend Sonny Anderson's Villarreal debut in 2003. "It was against Zidane and Beckham's Real Madrid. Sonny scored an exceptional goal that I will never forget " the OL president said during the pre-match lunch before last Thursday's first leg.