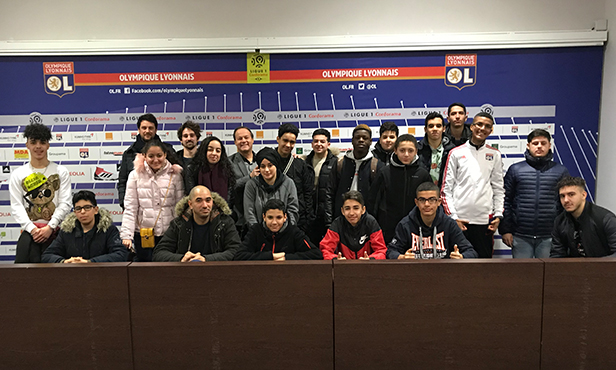 On Monday, February 19, youngsters from the Sport Dans la Ville "Sports Commentators" program took advantage of the school holidays to get a first-hand look at the inner workings of sports journalism.
DISCOVERING THE BUSINESS OF SPORTS JOURNALISM
Jean-Yves MEILLAND, OLTV director, welcomed the team of "Sports Commentators" and showed them the various aspects of the sports commentary profession by addressing the history of OL's channel as well as the many factors that go into the creation of a program. The youngsters were also able to go behind the scenes of an actual show by visiting the OLTV control room and the set of the "Culture Club" program.
Later that morning, OL TV journalist Philippe BRUET, formerly of Canal+, and the play-by-play man for the men's team's away matches, met with the visitors. He answered numerous questions, such as "How do you prepare for matches?" and "How do you become a sports commentator?" among others.

Next up for the group of aspiring sports journalist is a trip to Groupama Stadium for the April 28th match between OL and FC Nantes. They'll be seated in a press box, where they'll learn more tools of the trade and get a real-life "match-day" experience alongside the pros.
---
ABOUT THE "SPORTS COMMENTATORS" PROGRAM
Created in 2015/2016, the program was designed for youngsters affiliated with the Sport dans la Ville association; Through sports commentary, it aims to develop oral expression and improvisational techniques, to sharpen the critical senses in processing information and thus develop self-confidence among the participants.
---
Get the latest OL Foundation news on Facebook and Twitter !
Also check us out on Instagram
<< Click here for the latest OL Foundation news >>