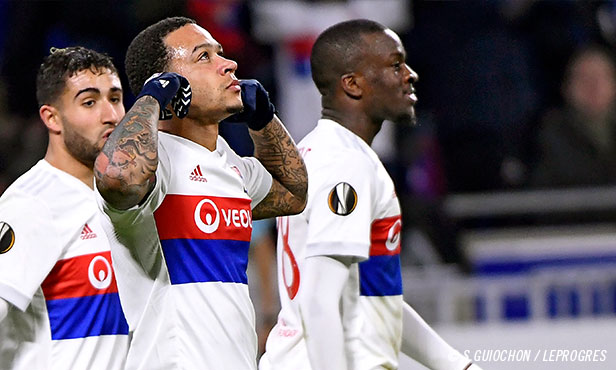 OL got the job done against a difficult Villarreal side Thursday night at Groupama Stadium, grinding out a 3-1 win in the first leg of their Europa League Round-of-32 tie. Goals from Ndombele, Fekir and Memphis gave Bruno Genesio's men a comfortable lead ahead of next week's decisive match in Spain.
. AT A GLANCE .
11'. Fekir's long-distance shot is barely off-target.
13'. Marçal is brought down by Gaspar inside the box, but no penalty is given.
17'. Lopes makes a highlight-reel save on a goal-bound volley from Trigueros.
23'. Mariano sends a header right at Asenjo.
25'. Fekir curls a beauty of a free kick that's kept out by a diving Asenjo.
32'. Under pressure from Cheryshev, Lopes suffers a slight scare but clears the danger in time.
46'. Mariano heads to the far post, where Ndombele thumps it in with a header of his own. 1-0
49'. Mariano's close-range shot is blocked by Asenjo, but Fekir pounces on the rebound. 2-0
53'. Mariano forces an acrobatic save from Asenjo.
63'. Lopes can't fully contain the shot from Fornals, who cuts into Lyon's lead. 2-1
82'. From almost 30 yards out, Memphis unleashes a first-time strike into the bottom left corner. 3-1
88'. Lopes comes up huge to deny Fornals from point-blank range.
. THE MATCH.
Struggling of late in Ligue 1 Conforama, OL sought relief in the Europa League Thursday night at Groupama Stadium in the opening leg of their Round-of-32 clash with Villarreal. And that's just what they got, putting together a solid performance against a tough opponent en route to a 3-1 win. Despite a scoreless first half, both teams had their fair share of chances in the opening 45 minutes. Mariano came closest with a thumping header right at Asenjo (23'), while the visitors threatened with a thundering volley from Trigueros that was swatted away by a diving Lopes (17'). OL's keeper almost got himself into serious trouble under pressure from Cheryshev (32'), but managed to clear away the danger in time.
⚽️???? A wonder goal from @Memphis has @OL 3-1 as they chase the dream of a #UEL final in their own stadium...

How far will Lyon go? ???? pic.twitter.com/0Q8v12fffR

— UEFA Europa League (@EuropaLeague) February 15, 2018
Lyon finally got their act together in the second half, finding the opener just 30 seconds after the break when Mariano (46', 1-0) headed to the far post, where Tanguy Ndombele scored with a header of his own for his first goal with OL. Just three minutes later, Mariano (2-0, 49') once again played a huge part in the scoreline, this time forcing a point-blank save from Asenjo, leaving a rebound for Fekir to slot home. Villarreal would make a game of it (63', 2-1) after Lopes failed to fully contain Fornals' shot from close range. But the two-goal lead was restored in the final moments (82, 3-1) when substitute Memphis smashed an absolute stunner from distance into the back of the net.
. THE MOMENT .
Memphis' moment of magic
After conceding an avoidable goal, Lyon suddenly found themselves in danger of heading to next week's second leg with the slimmest of leads. Things were starting to look bleak for Bruno Genesio, who called on Memphis from the bench late in the second half. A masterstroke by the coach, as the Dutchman left Groupama Stadium roaring with delight in the 82nd minute thanks to brilliant first-time strike from distance that restored OL's two-goal lead and much-needed confidence ahead their rematch in Spain.
. THE STAT .
35
By scoring the second goal of the evening (49 ', 2-0), Nabil Fekir became, along with Alexandre Lacazette, the most prolific offensive player in Groupama Stadium history. With 25 goals and 10 assists, the OL captain has been directly involved 35 goals scored at the stadium since it opened its doors back on January 9, 2016.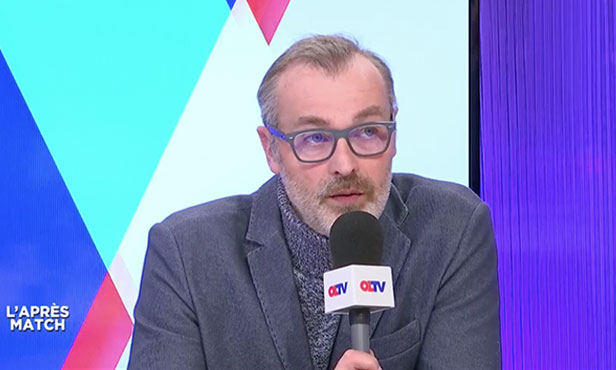 Expert eye
Arnaud Rivenet :
«It's a good result. It didn't feel like Lyon were really confident early in the game. The start of the second half was perfect with the very quick goal. After taking a two-goal lead, we stumbled a bit but recovered well by scoring the all-important third goal. The result is good, the offensive efficiency made the difference. We must not get too excited about next week's game in Villarreal... I think we'll score there.»
---
...

. BOXSCORE .

Groupama Stadium

Europa League (Round of 32, first leg) : OL – Villarreal CF 3-1 (0-0).

Referee : Viktor Kassai (HON). Attendance : 46,846.

Goals : Ndombele (46'), Fekir (49') and Memphis (82') for OL. Fornals (63') for Villarreal.

Bookings : Marçal (73') for OL. Álvaro (42'), Cheryshev (43') and Rodrigo (90') for Villarreal.

OL : Lopes – Rafael (Mendy, 85'), Marcelo, Morel, Marçal – Tousart, Ndombele - Traoré (Cornet, 77'), Fekir (cap.), Aouar (Memphis, 73') – Mariano. Coach: Bruno Genesio.

Villarreal CF : Asenjo – Gaspar (cap.), Álvaro, Ruiz, Costa – Castillejo (Ünal, 54'), Rodri, Trigueros, Fornals (Raba, 88') – Cheryshev (Soriano, 74'), Bacca. Coach: Javier Calleja.

...