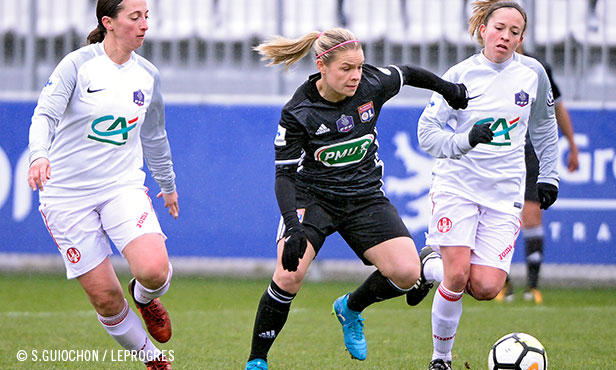 With a hat-trick, the French striker reached 226 goals in Sunday's 11-0 thrashing of Toulouse to become the club's all-time leading scorer.
. AT A GLANCE .
12'. Delphine Cascarino scores. (1-0)
20'. Eugénie Le Sommer scores. (2-0)
24'. Griedge Mbock scores. (3-0)
43'. Kheira Hamraoui scores. (4-0)
48'. Eugénie Le Sommer gets a brace. (5-0)
54'. Camille Abily scores. (6-0)
68'. Morgan Brian scores. (7-0)
73'. Emelyne Laurent scores. (8-0)
84'. Eugénie Le Sommer scores a hat-trick. (9-0)
87'. Brace for Camille Abily. (10-0)
90'. Brace for Kheira Hamraoui. (11-0).

---
Eugénie Le Sommer made history for an OL's women's team that put on another offensive exhibition in the Coupe de France, cruising past Toulouse en route to an 11-0 win that sealed their spot in the quarterfinal. Le Sommer scored a hat-trick to reach 226 goals with Lyon and overtake Lotta Schelin as the club's all-time leading scorer.

Sunday's match at Groupama OL Training Center was also the first for newly-signed American international Morgan Brian, who opened her Lyon account in her debut. Despite their opponent's highly defense formation, the home team took the lead early on thanks to a Cascarino goal (12', 1-0). That opened the floodgates, as Le Sommer scored her first of the match off a service from Petit (20 ', 2-0), followed by Mbock (24', 3-0) and Hamraoui, who smashed a screamer into the top corner ( 43 ', 4-0) just before the break.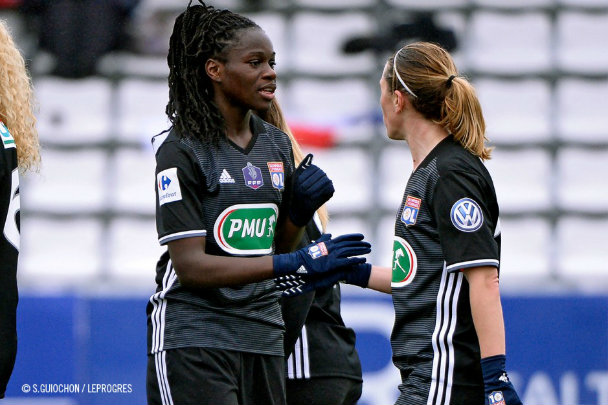 OL continued dominating in the second half, with Le Sommer unleashing a perfect volley to equal Lotta Schelin (225 goals) on the club's all-time scoring list. A late header (84 ', 9-0) put her all alone in the record books, with 226 total goals to date for the legendary striker. Abily scored a brace (54 ', 6-0 then 87', 10-0), as did Hamraoui (90 ', 11- 0), while Laurent (73', 8-0) and Brian (68', 7-0) also got in on the scoring action.


Eugénie Le Sommer on her record-setting performance : "Mission accomplished. We played a good, serious match. I'm proud to be the top scorer in club history. I had the pleasure of playing alongside Lotta (Schelin) and it is an honor to beat her record today. I'll text her to apologize (laughs). But the goals are secondary, the important thing is that we qualified."
...

. BOXSCORE .

Groupama OL Training Center de Décines.

Coupe de France (Round of 16) : OL Women – Toulouse FC 11-0 (4-0).

Referee: Stéphanie Di Benedetto. Attendance: 300 approximately


Goals : Cascarino (12'), Le Sommer (20', 48' and 84'), Mbock (24'), Hamraoui (43' and 90'), Abily (54' and 87'), Brian (68') and Laurent (73') for OL.

OL : Peyraud-Magnin – Petit, Buchanan, Mbock, Bacha – Brian, Abily (cap.), Hamraoui – Thomis (Laurent, 60'), Le Sommer, Cascarino. Entr. : Reynald Pedros.

Toulouse FC : Verdier - Arcambal, Palou (cap.), Galera, Leguevaque - Ferreira (Garcia, 46'), Asensio, Monicolle (Castera, 64'), Gonssollin - Mouly, Chirat (Buscaylet, 76'). Coach: Franck Plenecassagne.

...