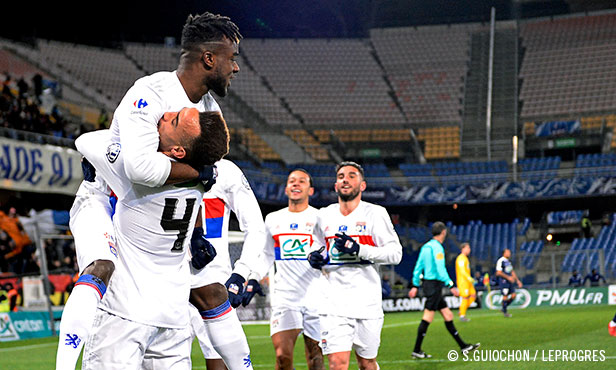 First half goals from Maxwel Cornet and Nabil Fekir (penalty) gave OL a 2-1 win over Montpellier at the Stade de la Masson Wednesday night and booked their spot in the Coupe de France Round of 16.
. AT A GLANCE .
13'. Cornet, assisted by Traoré, beats Lecomte at the near post. (0-1)
22'. Ikoné fires home from close-range to level the score. (1-1)
27'. Nabil Fekir is fouled inside the box and takes the penalty himself, putting OL back in front. (1-2)
42'. Lopes comes up huge in goal to deny Sambia
45'. Fekir serves it on a platter for Memphis, who shoots over the crossbar.
61'. Lopes deflects a goal-bound shot over the bar with a finger-tip save.
80'. Cornet breaks free on the counterattack, but can't get his shot past Lecomte.
. THE MATCH.
Stuck in a two-game losing streak, OL had a date with Montpellier Wednesday night in the Coupe de France - the perfect opportunity to regain their form. Bruno Genesio made five changes to the team that fell to Monaco three days earlier, with Fernando Marçal and Mounter Diakhaby in defense, Lucas Tousart and Jordan Ferri in midfield and Maxwel Cornet leading the attack. The latter opened the score for the visitors early on (13', 0-1), surprising Lecomte by shooting at goal when the keeper was expecting a cross into the box. As in the Coupe de la Ligue, a promising start was quickly erased by Montpellier, this time with an equalizer from Ikoné (22', 1-1).

Cool as can be from the penalty spot ???? ????????#MHSCOL 1-2 pic.twitter.com/BJI8q4sp3z

— OL English (@OL_English) 7 février 2018
Unlike the last cup meeting between both teams, however, Lyon put things back in their place quickly and retook the lead just five minutes later through Nabil Fekir . Brought down from behind inside the box, the captain converted the penalty himself, sending Lecomte the wrong way from the spot (27', 1-1). The second half lacked the intensity of the opening 45 minutes, although Lyon had several chances to put away the match. Anthony Lopes was also decisive, making a pair of highlight-reel saves (42 'and 61') to preserve the one-goal lead. For the first time since 2011-12, Lyon are Coupe de France quarterfinalists.

. THE MOMENT .
Done in 30 minutes
You couldn't help but fear Déjá vu. Just like against Monaco three days earlier, OL were ahead in the score within the first quarter of an hour, only to find themselves tied. This time, however, Genesio's men reacted with a Nabil Fekir penalty. Thirty intense minutes were all they needed to secure the win.
. THE STAT .
20
Nabil Fekir scored his 20th goal in all competitions for OL this season. He's the 20th player in club history to reach this milestone, achieving it in just 29 games. He's also the first French player in the top five European leagues to reach the 20-goal mark in the 2017-18 campaign.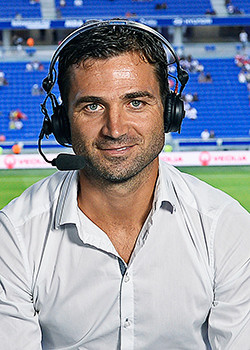 Expert eye
Jérémy Berthod :
« It wasn't perfect, but there are plenty of positives to take from tonight. The most important thing in this Cup is to qualify for the next round. Most notably, we saw a high-quality performance in the first half… We used the speed of our forwards to outpace their defenders. We managed the ball very well. We defended a lot more in the second half, but we managed not to concede any goals. »
---
...

. BOX SCORE .

Stade de la Mosson.

Coupe de France (Round of 16) : Montpellier – OL : 1–2 (1–2)

Referee: Mikaël Lesage. Attendance:: 7,000 approx.

Goal : Cornet (13') and Fekir (27', pen.) for OL. Ikoné (22') for Montpellier.

Bookings: Ferri (56') and Traoré (90') for OL. Mendes (59') for Montpellier.

Montpellier : Lecomte – Mukiele (Camara, 88'), Mendes, Hilton (cap.), Congré, Aguilar – Sambia, Lasne – Mbenza, Ikoné (Dolly, 78'), Ninga (Sio, 67'). Coach: Michel Der Zakarian.

OL : Lopes – Tete, Marcelo, Diakhaby, Marçal – Fekir (cap.), Tousart, Ferri (Ndombele, 70') – Traoré, Cornet (Mariano, 90), Memphis (Aouar, 85'). Coach: Bruno Genesio.

...