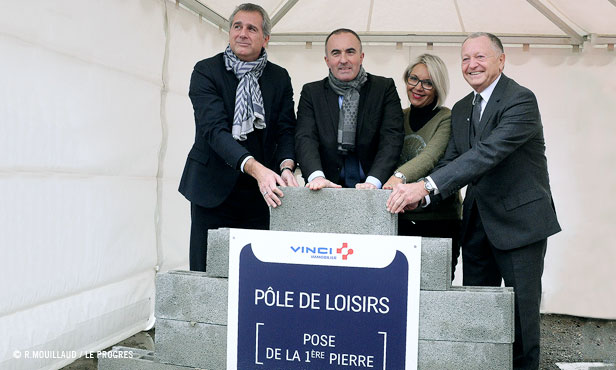 Michel Le Faou, Vice-President of the Metropolis of Lyon, delegate for urban planning and renewal, housing and living environment; Laurence Fautra, Mayor of Décines-Charpieu and Metropolitan Councilor; Jean-Michel Aulas, President of Olympique Lyonnais; and Stéphane Reymond, Deputy General Manager of Residential Real Estate and Regions and Regional Director of Auvergne-Rhône-Alpes and VINCI Immobilier, laid the foundation stone for the Groupama Stadium leisure center on Monday.

La première du Too Fun Park est posée au @GroupamaStadium ! Un pôle de loisirs indoor avec bowling, mini-golf, Trampoline Park, Lasergame, parcours Ninja, salle de fitness, restaurants, ... pic.twitter.com/AJVHfXrrB4

— Groupama Stadium (@GroupamaStadium) February 5, 2018
The leisure center will consist of four buildings spread out over 23,000 m² of space
Some of the highlights of the leisure center include:
A 32-lane bowling alley and miniature golf course

The Exalto Park entertainment multiplex, which will include a Trampoline Park, a Funclimb, a Lasergame and the first Ninja course in the Lyon region.

A fitness center

Indoor football and several additional projects in the upcoming months, both both for catering and sports activities (ice rinks, paddling, etc.)
Smart City OL, a modern and unique complex, ushers in a new era of sporting venues in France.
The goal of these projects around Groupama Stadium is to create an important dynamic with the creation of different endeavors (business, leisure, medical) in order to make Groupama Stadium and OL Smart City a place to enjoy 365 days a year.
Jean-Michel AULAS - President OL GROUPE
Faire plus d'attractions au Groupama Stadium : une Smart City OL ! Un complexe moderne et unique dans la région pic.twitter.com/bZbib84ILT

— Groupama Stadium (@GroupamaStadium) February 5, 2018
The project, marketed by Vinci Immobilier Promotion and carried out by VINCI Immobilier, is part of a broader expansion program at Groupama Stadium, including the construction of an office building in late 2017, a medical center and laboratory that will open its doors in spring 2019 and the three-star, 140-room "KOPSTER" hotel acquired by the LAVOREL group that which will offer high-quality and local accommodation solutions to professional travelers, tourists and supporters beginning in the third quarter of 2018.