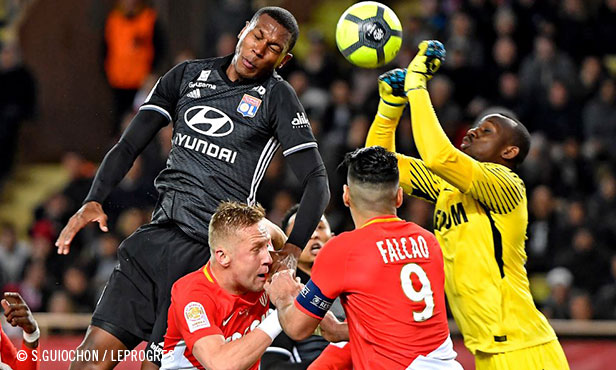 OL wasted a two-goal lead and a one-man advantage, suffering their fourth loss of the season - their second in a row - at the Stade Louis II in Week 24 of Ligue 1 Conforama.
. AT A GLANCE .
15'. Mariano surprises Subasic from over 30 yards out. 0-1
27'. Traoré puts away a cross from Mendy with a fantastic first-time shot. 0-2
31'. Baldé pulls one back for the home side. 1-2
35'. Lopes saves Falcao's penalty shot, but the Colombian fires his own rebound into the net. 2-2
44'. Baldé earns his second yellow card for a rough foul on Mendy, leaving Monaco down to ten men.
45'. Tete forces two desperate saves from Glick and Sy just before the break.
68'. Anthony Lopes makes the highlight-reel save to deny his Portuguese namesake Rony Lopes.
73'. Lopes once again shows off his reflexes, this time off a shot from Tielemans.
77'. Memphis hits the side netting with a close-range header
88'. Rony Lopes scores the winning goal for Monaco. 3-2
. THE MATCH.
After two victories over AS Monaco earlier this season in both the league and the Coupe de France, OL were looking to make it three straight on Sunday in their Ligue 1 rematch with the defending champs. Things were looking good for Bruno Genesio's men by the half-hour mark, thanks to a long-range goal from Mariano (0-1) and a fine piece of finishing from Bertrand Traoré (0-2) following a great build-up play. But in a matter of six minutes, things began to fall apart for Lyon: Baldé pulled one back for the home side, and then Falcao pounced on his own rebound after Anthony Lopes blocked the Colombian's initial penalty kick (2-2). An eventful first half got even wilder when Baldé was sent off for a rough foul on Tete that earned him his second yellow card of the match.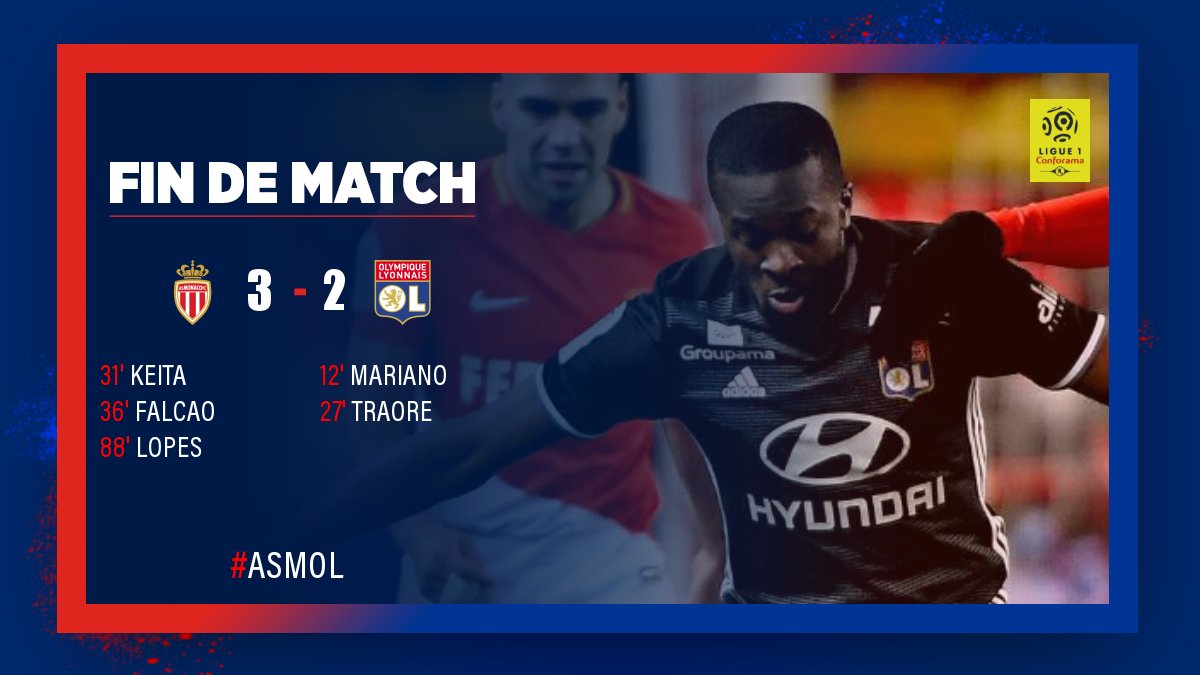 Despite having an extra man on the pitch and dominating possession, OL failed to create real danger for an opponent that was defending tooth and nail in the back. Meanwhile, Monaco threatened Anthony Lopes on shots from R. Lopes and Tielemans. The Portuguese keeper finally was beaten by his compatriot Rony Lopes (2-3) in the 87th minute. The team's second loss pushed Nabil Fekir and company down to fourth place in the standings, three points from Marseille and two from Monaco. Lyon will look to get back on track Wednesday in the Coupe de France Round of 16 against Montpellier before returning to Groupama Stadium to face Stade Rennais.
. THE MOMENT .
Six costly minutes
OL had everything going for them at the Stade Louis-II. Two quick goals from Mariano and Bertrand Traore, combined with Subasic's injury for Monaco, had the visitors looking poised to take all three points. However, the reigning French champions managed to get back on track shortly after the half-hour mark. First Baldé pulled one back from the home side, who leveled the score at two goals apiece shortly after Falcao's penalty was saved by Lopes, only for the Colombian to put away his own rebound. Even though Baldé was sent off and Falcao left with an injury, Lyon were unable to recover.

. THE STAT .
6
It's becoming a bad habit. On Sunday, OL conceded their sixth penalty in eight matches. A stat that's taking its toll on Bruno Genesio's men, who were already punished twice from the penalty spot in last week's 3-1 loss at Bordeaux.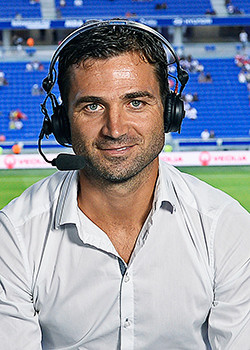 Expert eye
Jérémy Berthod :
«This is a loss that stirs up many emotions. There is anger over a questionable penalty call. There is, however, mostly disappointment and frustration because in the second half we were unable to cause any real problems for AS Monaco. In the end, as a result of yet another defensive error, we conceded a third goal. Had we been more patient and smarter, we could have won this game. »
---
...

. TEAMSHEET.

Stade Louis-II de Monaco

L1 (WEEK 24) : AS Monaco-Olympique Lyonnais 3–2 (2-2)

Referee: Benoît Bastien ; Attendance: 9,000 approx.

Goal: Mariano (12'), Traoré (27') for OL ; Baldé (31'), Falcao (36') and R. Lopes (88') for AS Monaco.

Bookings: Tete (30'), Mendy (35') and Ndombélé (41') for OL ; Baldé (40' and 44') and Sy (90') for AS Monaco.

Red card: Baldé (44') for AS Monaco.

AS Monaco : Subasic (Sy, 15') – Touré, Glik, Jemerson, Raggi – Fabinho, Tielemans – Baldé, Moutinho, R. Lopes - Falcao (Jovetic, 55'). Coach: L. Jardim.

OL : A. Lopes - Tete, Marcelo, Morel, Mendy – Ndombele, Aouar – Memphis (Myziane, 86'), Fekir (c.), Traoré (Cornet, 75') - Mariano. Coach: B. Genesio.


...