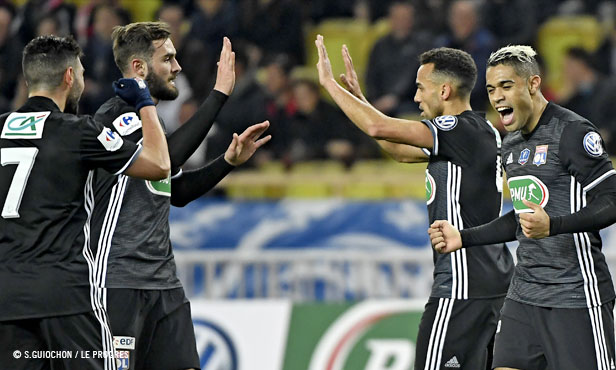 Three days after their memorable home win (2-1) over PSG in L1, OL continued their solid form Wednesday night by defeating Monaco (2-3) at the Stade Louis II to advance to the Coupe de France Round of 16.
. AT A GLANCE .
13'. Jovetic scores the header to give the home side an early lead. 1-0
21'. Traoré evens things up with a fantastic individual play and finish. 1-1
23'. Rony Lopes misses a sitter, much to the relief of Lyon.
25'. Mariano causes a Sidibé own-goal. 1-2
55'. Mariano, off a Traoré delivery, finds the back of the net with a header. 1-3
71'. Rony Lopes cuts into OL's lead. 2-3
85'. Anthony Lopes makes a great save to deny Ronny Lopes.
93'. Glik crashes a header into the crossbar.
---
. THE MATCH.
With six changes in his Starting XI, Bruno Genesio fielded a fairly different team to the one that beat PSG over the weekend. However, different didn't mean less competitive, given the importance of the Coupe de France for Lyon. After conceding an early goal to Jovetic (1-0), OL evened things up in the 19th minute thanks to a perfectly executed display of ball skills and finishing from Bertrand Traoré (1-1). The visitors took the lead minutes later (25') when Memphis' effort was deflected against the crossbar, allowing Mariano to poach the rebound and causing a Sidibé own-goal (1-2). .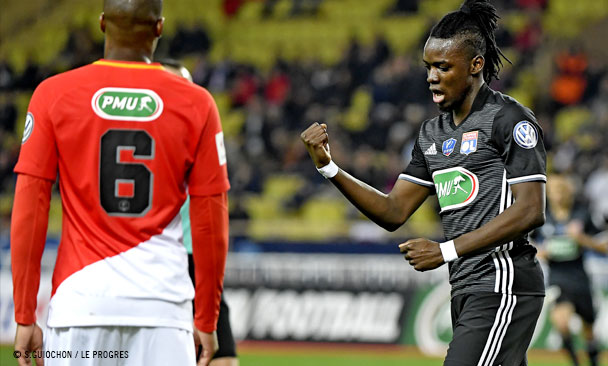 Ten minutes after the break, Mariano would get a goal of his own, heading a perfect service from Traoré into the back of the net (1-3). Monaco added a bit of suspense to the proceedings when Rony Lopes cut into OL's lead (2-3) in the 71st minute and even threatened to send the game into extra time when a last-gasp header from Gilk rattled the woodwork. In the end, however, Lyon would hold on for the victory and a spot in the next round.

. THE MOMENT .
Mariano, the difference maker
Without a doubt, the former Real Madrid man is deadly inside the penalty box. He proved it again Wednesday night. First in the 25th minute, after Memphis sent his shot off the crossbar and at the feet of Mariano, whose subsequent effort deflected off Djibril Sidibé and into the back of the net. While ruled an own-goal, there were no doubts about the next goal: a perfectly placed header from the striker the secured OL's place in the next round. .
GOOOOOOAAAAAAAALLL!!! Traoré delivers a perfect cross for Mariano , who puts away the header!!!! 3-1 Lyon lead!!! #ASMOL 1-3 pic.twitter.com/N6mjlNS8DU

— OL English (@OL_English) 24 janvier 2018
. THE STAT .
500
Bertrand Traoré celebrated his return to the starting lineup by scoring the Lyon's 500th goal in the Coupe de France with a brilliant piece of ball control and finishing. In 237 total matches in this competition, OL have a record of 115 wins, 31 draws and 61 losses. The club's first-ever goal in the tournament was scored in 1951 by midfielder Antonin Pajan, who netted twice in the seventh round against RC Vichy (2-1).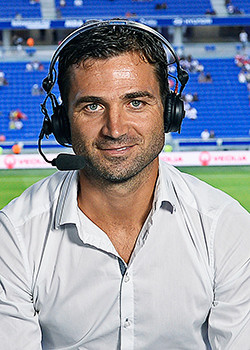 Expert eye
Jérémy Berthod :
« It's a very good performance and a great result for Lyon. Three days after their great feat against PSG and with a redesigned team, Bruno Genesio's men have qualified into the next round… They looked a little shaky towards the end, but overall it was a very good performance. »
---
...

. TEAMSHEET .

Stade Louis-II de Monaco.

Coupe de France (Round of 32) : AS Monaco-OL 2-3 (1-2)

Referee : Ruddy Bucquet. Attendance : 7,000 approximately

Goals : Jovetic (13') and R. Lopes (71') for AS Monaco ; Traoré (21'), Sidibé own-goal (26') and Mariano (55') for OL.

Bookings: Ferri (12') and Tete (74') for OL ; Tielemans (74') for Monaco .

AS Monaco : Benaglio (Sy, 46') – Touré, Glik, Raggi (Tielemans, 63'), Sidibé – R. Lopes, N'Doram, Fabinho, Baldé – Jovetic, Falcao (Ghezzal, 70'). Coach: L. Jardim.

OL : Lopes –Tete, Marcelo, Diakhaby, Marçal – Tousart, Ndombele, Ferri – Memphis, Mariano (Aouar, 86'), Traoré (Cornet, 75'). Coach: B. Genesio.


...