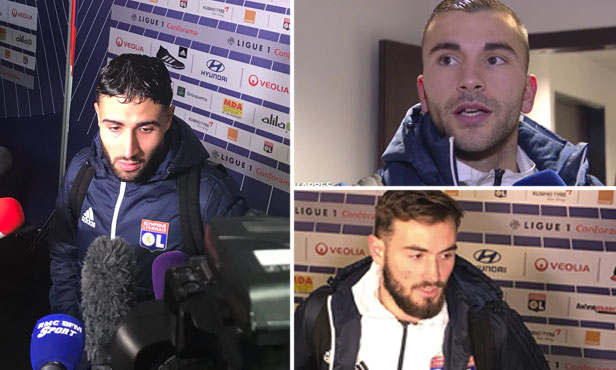 Lyon's players spoke to OLTV following Sunday night's riveting 2-1 win over PSG.
Nabil Fekir
« We are all very happy. The red card made things easier for us. We had the ball more and kept pushing for the win… we didn't stop until the end and we only thought of winning. We will fight to finish in the best possible position at the end of the season… My goal? I saw the keeper off his line… you have to have some nerve and I was able to score. It's good for the team. »

Rafael
« This is a good win for the team… It was frustrating to concede that goal just before halftime, especially since there was a foul on Nabil. We just went back to basics. The first goal gave us a lot of confidence. »

Anthony Lopes
« It's a great group win because it wasn't easy. We knew how to be patient after the sending off. There's nothing better than scoring in the last second. The red card weighed heavily on them… the play on Mbappé? He didn't see me coming. It was inevitable. I had time to protect myself. I was very worried about him. I asked about him to see if he was ok. They told me I couldn't see him. I hope everything is ok with him. »
???? ????????#OLPSG pic.twitter.com/T1OoaTR1CS

— OL English (@OL_English) 21 janvier 2018

Jérémy Morel
« Tonight was a real treat. We wanted to win and we were able to get it done. We were a little gassed after the break because we had given a lot in the first half. It was very good. PSG's equalizer hurt, but we were able to stay solid and collectively we played a great game. We scored two extraordinary goals… Throughout the whole match we had the feeling that we could do something big. »

Ferland Mendy
« We are satisfied with our performance. We celebrated in the locker room. We have shown that this is a very close group. I knew exactly what Mbappé was capable of doing. More than anything, I wanted to play well defensively. We gave a lot in the first half and were a little spent. It was a difficult half. ».