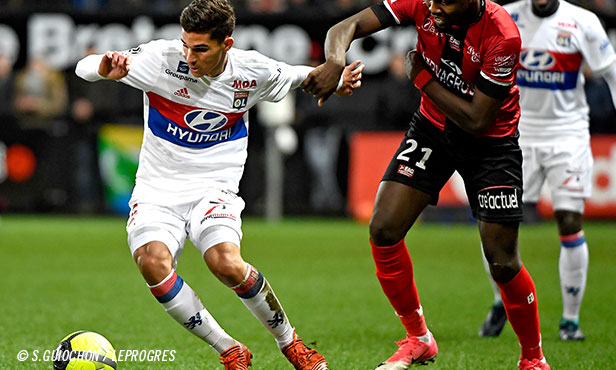 OL were easy 2-0 winners at Guingamp Wednesday night, controlling the match from start to finish to take sole possession of 2nd place in Ligue 1 Conforama. A perfect result ahead of Sunday's highly anticipated clash with PSG.
. AT A GLANCE .
11'. Guingamp keeper Johnsson makes the kick save to deny Fekir, after a nice run and set-up from Mendy.
12'. Johnsson is tested for the second time in as many minutes, this time by Mariano.
18'. Mendy comes close to opening the score for OL .
26'. Cornet's service finds Fekir inside the box, and the captain doesn't hesitate. Lyon take the lead. 0-1.
33'. Diallo sends a header over the crossbar.
51'. Lopes watches as Ikoko's shot sails just wide of the mark.
58'. Mariano's free kick is saved by Johnsson.
60. Aouar latches onto a brilliant chip pass from Mendy and tucks his shot under the keeper. 0-2.
62'. Cornet and Ndombele both waste chances to get their name on the scoresheet.
75'. Johnsson shows off his reflexes yet again on shots from Mariano and Tousart.
90+3'. Ferri's goal-bound shot is cleared in front of the line.
THE MATCH.
Twenty four hours after Monaco's latest draw, OL had the opportunity to take sole possession of second place, ahead of Marseille, who were winners the day before. But there were no guarantees heading into Wednesday's match against a strong Guingamp side. With Mariano back in the starting XI, however, Lyon were in control from the start. Johnsson, the home team's most valuable player, was challenged early on by Fekir and Mendy. But try as he did, the Swedish netminder couldn't stop OL's captain from scoring his 15th goal in L1 this season.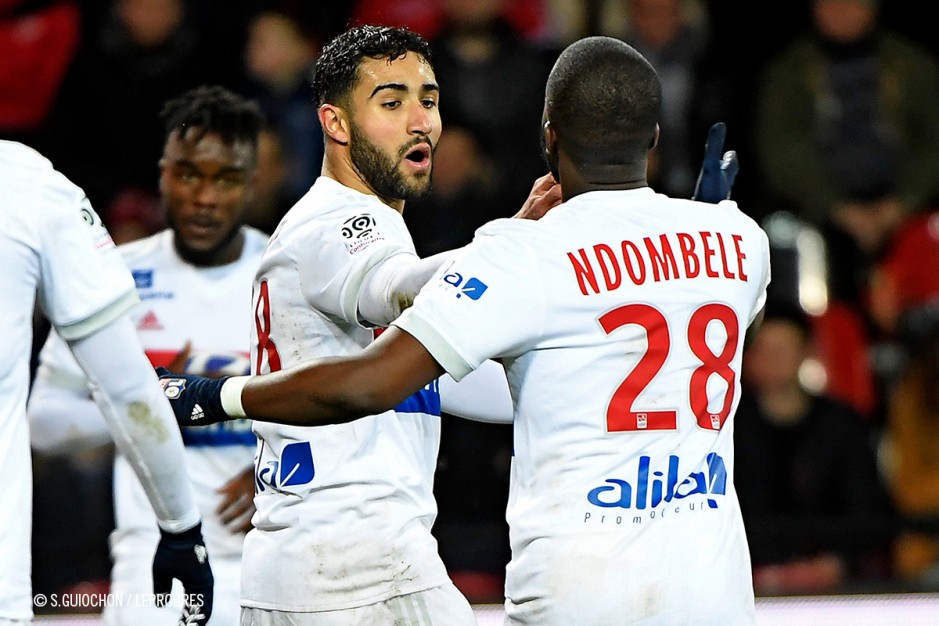 After a brief scare from Guingamp right back Ikoko, OL put the game to bed in the second half thanks to Aouar, who took advantage of a brilliant assist from Mendy to double the lead. Johnsson kept the score respectable with a pair of fantastic saves against Mariano and Tousart. With the result all but assured, head coach Bruno Genesio gave some minutes to Traoré, back after several weeks on the injury list. The Burkinabé forward almost returned with a goal, but was denied by Johnsson. With this latest road win, OL sit alone in second place, one point ahead of Marseille and two over Monaco. A solid performance that bodes well ahead of Sunday's highly anticipated showdown with PSG.

. THE MOMENT .
A decisive goal just before the hour mark
Cleary the better team in the first half (58% ball possession and 10 shots vs. 2 from Guingamp), OL still only had one goal to show for their efforts after 45 minutes. A scenario that conjured up visions of last year's disappointing visit to the Stade de Roudourou, where Genesio's men ended up losing 2-1 despite taking the initial lead and dominating most of the match. This time, however, things would be different. Houssem Aouar made sure of that shortly before the hour mark (58') and secured all three points for Lyon.

. THE STAT .
7
OL earned a club-record 7th consecutive away win in Ligue 1 Conforama. Since their victory at Troyes (0-5) on October 22, Lyon have secured all three points six more times on the road: at Saint-Etienne (0-5), Nice (0-5), Caen (1-2), Amiens (1-2), Toulouse (1-2) and now at the Stade du Roudourou. The previous record record was set in 2006, with six straight road wins from August 4th to October 22. Led by team captain Nabil Fekir, involved in 18 goals in 18 games this season (15 goals and three assists), OL have won 26 out of 33 possible points on the road this season.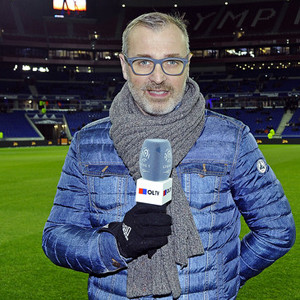 Expert Eye
Arnaud Rivenet :
« We dominated from start to finish without ever losing our composure. We were effective even if the 2-0 scoreline is rather flattering to Guingamp. We created lots of scoring situations. We controlled the match. It was a success.»
---
...

. TEAMSHEET

Stade de Roudourou, Guingamp.

L1 (MATCHDAY 21) : En Avant de Guingamp – OL 0-2 (0-1)

Referee : Nicolas Rainville (plus Benjamin Lepaysant).

Goals: Fekir (26'), Aouar (60') for OL.

Bookings: Ndombele (9'), Tousart (19') for OL. Diallo (39'), Tabanou (45') for EAG.

EAG : Johnsson – Ikoko, Kerbrat, Sorbon, Tabanou – Blas, Diallo (Ngbakoto, 67') – Salibur, Benezet (Giresse, 82'), Briand (cap.) – Thuram (Phiri, 53'). Coach: Antoine Kombouaré.

OL : Lopes – Rafael, Marcelo, Morel, Mendy – Tousart (Traoré, 88'), Ndombele (Ferri, 74') – Cornet, Fekir (cap.), Aouar – Mariano (Gouiri, 81'). Coach: Bruno Genesio.


...